Cinnamon Basil Asian Steak
Asian cooking uses a lot of different kinds of fresh Basils.  I have a blog where I prepare Vietnamese Recipes.  Go ahead and visit my Vietnamese blog at:  Cooking Vietnamese Food
Vietnamese food uses light and flavorful sauces and marinades.  This recipe uses fresh Cinnamon Basil and it adds just a hint of spicy basil flavor.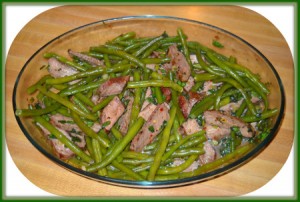 You can download a printable version of this recipe.
Just click on the hyperlink Cinnamon Basil Asian Steak below:
Ingredients
1 1/2 pounds Steak (can be any cut of steak)
2 teaspoons Extra Virgin Olive Oil, divided
Salt and freshly ground Black Pepper
1/4 cup fresh lime juice
1 tablespoon Asian Fish Sauce (Premium grade is called nouc mam nhi)
1 teaspoon Vietnamese Chili Garlic Paste
(Click on the hyperlink for recipe, or you can use store bought Chili Sauce)
1 teaspoon Splenda
1/3 cup fresh Cinnamon Basil, chopped
3/4 cup Fresh Cilantro, coarsely chopped
1/2 cup Scallions, thinly sliced
1 pound fresh Green Beans, trimmed
2 cans Chicken Broth (or homemade Chicken Stock)
Preparing the Steak:
Using a brush cover both sides of the steak pieces with olive oil. Sprinkle some pepper and salt on both sides of the steak and set aside.
Place in a glass casserole serving dish: onion, cilantro, Splenda, freshly chopped Cinnamon Basil freshly squeezed lime juice. Add the fish sauce and chili garlic paste. You can either make the Chili Garlic paste, or purchase Chili Garlic Sauce. Mix the marinade and set it aside.
Trim and cut the green beans, steam them in the chicken broth. When cooked remove the green beans and keep warm. Now add some jasmine rice to the chicken broth, bring back to a boil, turn down to simmer and cook the rice.
Grill the pieces of steak to your desired doneness, slice the steak in thin strips and add to the marinade you have already prepared. Stir well to make sure that all the steak pieces are coated with the marinade.
Add the cooked the beans, to the grilled steak and marinade. Stir to coat the green beans.
Spoon some jasmine rice on a plate. Top with the Cinnamon Basil Asian Steak and Green Beans.
If you have some egg rolls, you can add them to the dish as well.
Cinnamon Basil Asian steak is ready to be served!
Tip: I use the green bean, chicken broth to make my Jasmine rice. Serve the Cinnamon Basil Asian Steak over the rice.