Cinnamon Basil Baked Cranberry Sauce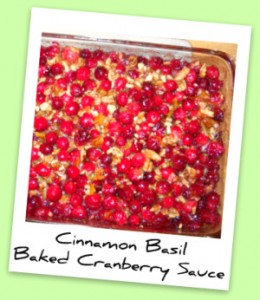 David likes the Cranberry Sauce right out of the can, but not with all my homemade recipes! I just had to come up with a homemade Basil recipe, so I did. This Real Texas Cinnamon Basil Baked Cranberry Sauce has become a family favorite and I hope you will enjoy too!
Using all fresh ingredients and refrigerating overnight brings out all the fresh exciting flavors!
You can download and print out the recipe and complete step by step instructions, click on the recipe title hyperlink below:
Ingredients
1 pound fresh cranberries
1 1/2 cups Pecans, chopped
1 cup Orange Marmalade
3/4 cup Sugar
1/2 cup Orange Juice
1 tablespoon Cinnamon Basil, minced
Snip a few Cinnamon Basil leaves from the Cinnamon Basil plant. Make sure that you are not cutting the new growth and if you find any stragglers in the plant, you can always cut them first.
Since the recipe calls only for small amount, you can cut just a few leaves.
Wash the Cinnamon Basil leaves with cool water so that it will keep the leaves fresh. Dry the leaves on a paper towel and cut them in to fine pieces with the help of kitchen utility scissors. Put the leaves that are cut in a bowl.
Add the fresh cranberries into a large bowl. Add chopped pecans, the raw sugar, and the Orange Marmalade. Add the orange juice and the Cinnamon Basil which you have already chopped fine. Mix the mixture well until the cranberries are completed coated. Once you have mixed it, put the mixture in a greased oblong pan and bake it in the oven at 350F degrees until the cranberries become really tender.
The Cinnamon Basil Cranberry Sauce is now out of the oven. Refrigerate it overnight.
'Love Your Basil'
Ramona