Cinnamon Basil Leek and Potato Soup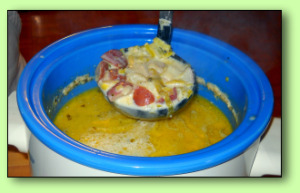 Leeks are in the Onion family, but have a slight hint of a mild garlic flavor.
If you like creamy Potato Soup, adding the Leek and the Cinnamon Basil enhances the flavor, but none of the ingredients are over powering.
Click on the hyperlink below for a printable version of this recipe:
Ingredients
1 cup Butter
2 Leeks, sliced (root and light green part of stem)
Salt and Pepper to taste
1 quart Chicken Broth
1/4 cup fresh Cinnamon Basil, chopped
1-2 Jalapenos, minced
1 teaspoon Garlic, minced
1 tablespoon Cornstarch
4 cups potatoes, diced
Directions
The root and the light green stem of the leek is the edible part, cut the leaves off and discard. Slice the root and the stem in to thin pieces and put them in a bowl.
Heat butter in a pan; add minced garlic and minced jalapenos. Add the leak pieces, pinch of salt and black pepper. Sauté the leek for about 5 to 8 minutes until it becomes soft.
Add chicken stock to a bowl. Add corn starch to the chicken stock and whisk the chicken stock mixture.
Add chicken stock mixture, diced red potatoes and add the sautéed leek into a crock pot. Turn on high and bring it to a boil.
Once the mixture is up to a boil, add the heavy cream and freshly chopped Cinnamon Basil. Stir the mixture and bring the mixture to a boil again, then turn down the heat and cook the mixture for several hours until the potatoes in the mixture are tender.
Pour the soup in to a cup once it is completely cooked. Add some grated parmesan cheese and top. The Cinnamon Basil Leek and Potato Soup is ready to be served now!