Lobster Bisque with Sweet Basil
Thanks to Groomer's Seafood in San Antonio for sharing a fantastic annual event with us!  Lobster Mania…they sold over 3,000 Live Maine Lobsters and I'm so glad we were able to get ours before they sold out. Take a look at my interview with Blake and Rick Groomer:
David and I picked up our Fresh Live Maine Lobsters on Thursday morning and thank goodness we missed the madness on Friday.  I also got enough lobsters for several recipes, and we even had friends over for a Lobster boil.  Check out Real Texas Lobster Quesadillas; and Vietnamese Lobster with Ginger and Scallions.
For this recipe, you will need to prepare the Lobsters.  I show how to cook and get out the meat in just a few simple steps:
Once you have removed the lobster meat, you are ready to begin my recipe for Lobster Bisque with Sweet Basil.  I hope you enjoy it as much as we did!  It's absolutely delicious!
Lobster Bisque with Sweet Basil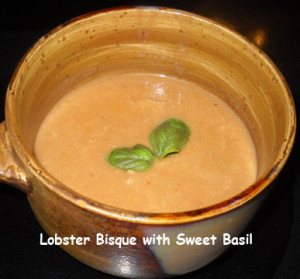 Ingredients
Lobster Meat (I used the tail and claws from 3 lobsters)
1 medium Onion, diced
1 stalk Celery, diced
1 Carrot, diced
1 Roma Tomato
1 head Garlic, cut garlic head crosswise and leave whole
2 tablespoons Olive Oil
2 tablespoons fresh Tarragon Leaves, chopped
2 tablespoons fresh Thyme Leaves
1 tablespoon fresh Sweet Basil, chopped
1 Bay Leaf
12 whole Black Peppercorns
1/2 cup Brandy
1/2 cup dry Sherry
4 cups homemade Lobster Stock
1/4 cup Tomato Paste
1/2 cup Heavy Cream
1 1/2 tablespoons Cornstarch
2 tablespoons Water
Directions
After removing the lobster meat, chop into bite size pieces.  Place in a bowl and put in refrigerator to keep cold until ready to use.
In a heavy cast iron dutch oven, heat the oil on medium high heat until hot but not smoking.  Add onion, celery, carrot, tomato herbs, peppercorns and garlic head.  Sauté until onion is translucent approximately 8 minutes.  Add Brandy and Sherry and at a simmering boil, stirring until almost all liquid is evaporated, about 5 minutes.  Add the lobster stock, stirring occasionally at a simmering boil, uncovered, approximately 1 hour.
Pour mixture through a strainer into a large saucepan and discarding the solids.  Pour the strained mixture back into the dutch oven and whisk in the tomato paste.  At a simmering boil, reduce to about 3 cups, approximately 10 minutes.
Add cream and at a simmering boil, cook bisque 5 minutes.
In a small bowl stir together cornstarch and water and whisk into bisque.  At a simmering boil, stirring approximately 2 minutes.  (Bisque will thicken slightly)  Add the lobster meat and simmer bisque 5 minutes or until lobster meat is heated.  Season with salt and pepper.