Pumpkin Seed Fresh Basil Pesto
This is my favorite time of year, getting ready for the holidays.  I love to begin with Halloween, and the Fall weather.  We don't carve our pumpkin, but I do display for a couple of weeks until I just can't take it anymore.  I can't wait to make fresh homemade pumpkin pies and pumpkin cheesecake!  I've always wondered what to do with the pumpkin seeds.  I usually give them to the chickens as a treat.  They'll just have to share this year.
I'm making a Pumpkin Seed Fresh Basil Pesto.  It's not only nutritious, but it is really soooooo delicious!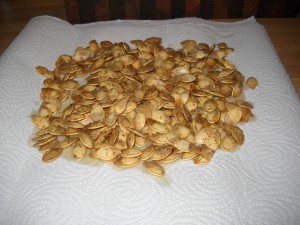 Start off by roasting the Pumpkin Seeds.  This is very easy to do.
All you do is rinse the Pumpkin Seeds to rid them of the pumpkin strands.
Dry them off and spread on a cookie sheet.
Drizzle some Olive Oil over them and sprinkle some spices.  I used Kosher Salt, Pepper and a little Cayenne Pepper.
Bake for about 30 minutes at 350F degrees or until a roasted, not burnt color.
(You can munch on some of them too.)
Pumpkin Seed Fresh Basil Pesto
Ingredients
1/4 cup Roasted Pumpkin Seeds
2 cups fresh Basil (I used African Blue and Thai Basils, you can use any of your favorite Basil)
1 clove fresh Garlic
pinch of Kosher Salt
2/3 cup fresh grated Parmesan Cheese
1/4 cup Olive Oil
Directions
In a food processor, add pumpkin seeds, fresh basil, garlic, and salt. Process until pureed.
In a mixing bowl, add the pureed mixture, grated Parmesan cheese, and olive oil and mix thoroughly.  Add more olive oil for the consistency you desire.