Reuben Sandwiches with Serata Basil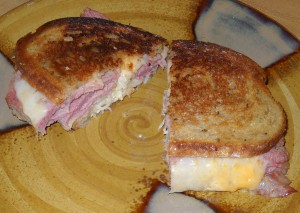 I'm not sure whether I really like the holiday St. Patrick's Day, or if I like to use the holiday as an excuse to make Corned Beef.
I love to use the leftovers for Reuben Sandwiches.  You really don't have to wait until St. Patrick's Day to make Corned Beef, I make it whenever we're in the mood for Reuben Sandwiches.
To download the recipe with instructions, click on the hyperlink below:
Ingredients
Corned Beef in package
1/4 cup Fresh Serata Basil, chopped (Any Fresh Basil can be used)
Water
1 tablespoon Olive Oil
2 tablespoons Butter, per sandwich (or Margarine)
2 pieces Rye Bread, per sandwich
2 slices of Swiss Cheese, per sandwich
1/4 cup Sauerkraut, drained, per sandwich
4 tablespoons Thousand Island Dressing, per sandwich
Directions
Cooking the Corned Beef Brisket
You can purchase a corned beef brisket in the meat section. It comes in with a vacuum packed bag and has a little seasoning pack.
Place corned beef in a pot and cover with water approximately 2 inches above the corned beef.Add the seasoning pack and the Serata Basil.
Turn the heat to medium high, and bring it to a boil. Turn down to medium low and leave at a simmering boil. Cook at a simmering boil, 50 minutes per pound.
Reuben Sandwich
Take the rye bread and butter on one side of each of the 2 slices. I'm using Smart Balance Butter. You can use any margarine or butter.
In a heavy duty skillet or a cast iron skillet add the olive oil. While heating the pan. Put 2 of the Rye Bread slices butter side down in the skillet.
Add little bit of a thousand island dressing.
Once the skillet is heated, turn down from medium to medium low. Allowing the sandwich to heat all the way through.
Place a piece of Swiss cheese as the next layer and pile on corned beef to your preference. Spoon the sauerkraut on top of the corned beef.Top with another slice of Swiss cheese. Spread Thousand Island dressing on the other piece of Rye Bread, leaving the buttered side on the outside.  Place this slice of bread on top of the Swiss cheese layer.
Using a spatula mash down the sandwich a little bit.
To turn use 2 spatulas, take the big spatula and put it on top of the sandwich. Take the little one and put it under the sandwich and turn it over.
To serve, cut it in half.