Linguine with Spicy Globe Basil, and Green Olive Sauce
This dish is a light but full of flavor summer dish.  My Spicy Globe Basil is growing and had just enough spice to add flavor to this dish.
Linguine with Spicy Globe Basil, and Green Olive Sauce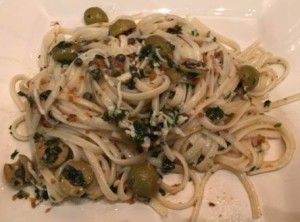 Ingredients
1 tablespoon, plus 1/2 cup Olive Oil
1/4 cup Panko Breadcrumbs
Kosher Salt, freshly ground Pepper
2 tablespoons chopped fresh Dill
1 teaspoon finely grated Lemon zest
12 oz. Linguine
2 teaspoons Anchovy Paste
1 small Garlic clove
1 cup chopped fresh Parsley
1/2 cup chopped fresh Spicy Globe Basil
1 cup Green Olives, pitted, halved
3 tablespoons drained Capers
1/2 cup Parmesan, finely grated, plus more for garnish
2 tablespoons fresh Lemon juice
Directions
Heat 1 tablespoon oil in a medium skillet over medium and cook Panko, stirring, until golden, about 5 minutes. Season with salt and pepper; transfer to paper towels to drain and toss with dill and lemon zest.
Cook pasta in a large pot of boiling salted water, stirring occasionally, until al dente. Drain, reserving 1/2 cup pasta cooking liquid.
Meanwhile, mash anchovies and garlic to a paste on a cutting board with the side of a chef's knife. Combine with parsley, basil, and half of olives and capers in a large bowl. Chop remaining olives and capers and add to bowl, along with remaining 1/2 cup oil. Mix well; season sauce with salt and pepper.
Add pasta and 1/4 cup reserved pasta cooking liquid to sauce. Toss, adding Parmesan a bit at a time, along with more pasta cooking liquid as needed, until sauce coats pasta. Add lemon juice; season with salt and pepper.
Serve pasta topped with panic and more Parmesan.
Note: Sauce can be made 1 day ahead. Cover with plastic wrap, pressing directly against surface, and chill.