Giving Back to the Community
Page 1 Page 2 Page 3 Page 4 Page 5 Page 6 Page 7 Page 8 Page 9 Page 10 Page 11 Page 12 Page 13 Page 14 Page 15 Page 16
After organizing several Celebrity Golf Tournaments to benefit Charities, it's time to give back to my Community, the place I chose to call home…
In an earlier segment of my lifetime story, I shared my dream of becoming a Star so Charities could use my name.
I found that organizing the events with my Celebrity friends was much easier and much more fun.  Friends like Chad Everett, Sandy McPeak and several others jumped on board to participate in these worthy causes that I supported.
Back then it was so much fun to help organize a full year of activities to help the Nashville Music City NFL Alumni to become it's own Chapter and I met many new friends.
After moving to Big Lake, Texas, I retired from all the glitter and glamour to become a regular person again.  But I found that this little community had big ideas and I had the background to help.
I found a bump in the road…
This was not the BIG CITY, the airport was not what the celebrities were used to, (there was no first class) and there weren't big fancy hotels to accommodate a large celebrity event.
How could I help?
I found that there are grants that are awarded to non-profit organizations and with cash matching funds, (which could be in-kind, like labor and volunteers) this could be the answer!  I went to classes to learn how to write a grant.  those teaching grant writing discouraged the students by saying that only 10% of grants are awarded!  This was not going to stop me, the challenge was on.
There was a need for a Domestic Violence program in this little oil town.  I researched and found several grants I could see that would benefit this cause, if I could just get those who awarded the grants to also see the need.
Nina Hallmark, pictured standing close to me, was the leader in this cause and she put together a team of women who all wanted to help other women experiencing domestic violence in their lives.  This was before all of the national publicity you see on TV about domestic violence.
Women in Big Lake who were victims of Rape, Domestic Violence, or needing shelter, had to get to San Angelo which was over 70 miles one way.  San Angelo was very gracious, but they had their own needs.
Big Lake would soon be on the map for having their own domestic violence program; including counselors that traveled to Big Lake, and their very own Advocates to help.  Under Nina's direction, the dream became a reality.
The group traveled to San Angelo for extensive training, including me…I worked the hotline around the clock and was available to escort victims to the hospital and to shelters.
In addition to my experience, I wrote the grants, presented them to the Council of Governments in San Angelo to be ranked. (This is the order that the grant is awarded the funding, the lower the number the more likely the funding)
I was very successful and won 100% of the grants that I wrote making it possible to hire an Executive Director, fund several projects, rent office space, pay for traveling counselors and this has lasted for over 10 years.
Friends for Hope awarded David Werst, the editor of the Big Lake Wildcat, (the local newspaper) an award for all his support in this worthy cause.
The Big Lake Wildcat was one of the best community newspapers that I have ever worked with.  David and I hadn't started seeing each other during the establishing of Friends For Hope.
In addition to being a Middle School, Texas History Teacher, he was the publisher and editor of the Big Lake Wildcat.
Many proud parents could brag about their kids in school activities, sports, and accomplishments.  Why?  Because their pictures were in the newspaper! And David would give the pictures he printed out to the kids and parents.
The Big Lake Wildcat didn't charge for community announcements and gave discounts for non-profit ads, this was just a way they gave back to the community.
And this was how David and I met.
David was also the President of the Hospital Board.  On this occasion, he stopped Ron Galloway, the Hospital Administrator in the parking lot to introduce us.  Well, they just so happened to start talking about how wonderful it would be to have a Community Aquatic Center, with an indoor swimming pool for therapy and where the older folks could go and exercise.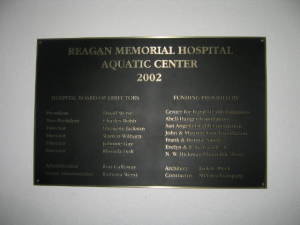 Hmmm….my next project?  Yes it was!  I raised over $300,000 and Big Lake had it's first Community Aquatic Center, complete with an indoor swimming pool, locker rooms, sauna, a jacuzzi and a work out center will state of the art exercise equipment.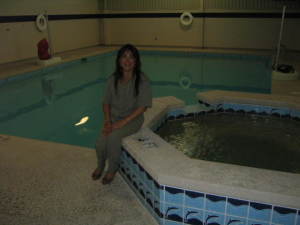 The swimming pool did have one little extra touch….the tile around the pool has little swimming dolphins….just a little happy touch.
We went back to Big Lake to visit, several years later, and stopped into see the Aquatic Center.  We were so surprised to find an all ladies class in session.  Were these the same ladies who said they couldn't understand why we needed an Aquatic Center?  Now they love it and have several classes a week.  Same thing with the men too…when they can get the ladies out of the pool.
I couldn't stop there…
The City needed a new Fire Truck and Ambulance!  Yep, they got them.
Then my last project for Reagan County was to get the Park Plan approved by the Texas Parks & Wildlife.  This meant they could apply for a walking track, upgrade the City Swimming Pool, and other plans for expanding the Park.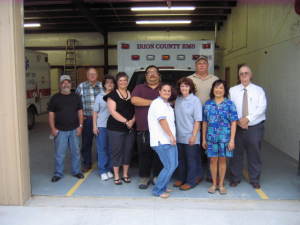 We moved to Mertzon, Texas and by now I had a reputation that I was a high ranking grant writer. Several other small communities have contacted me to write grants, but I have turned them down, because it was my way of giving back to my community.  I gave up grant writing because I started getting cluster migraines.  I carried grant writing too far, I felt that every grant I wrote had to be awarded.  I put my whole heart into each one and I was devastated if I lost a grant. (I only lost 2 grants, and had a great track record.)
Even though I had put up all my grant writing books and thought that I would not write another grant.  My new new community needed help.

This time they had the Fire Trucks and Ambulances, but they needed an adequate building to house them.
Oh and while we're at it, maybe some office space and a training room, and some space to keep our files.
They got it!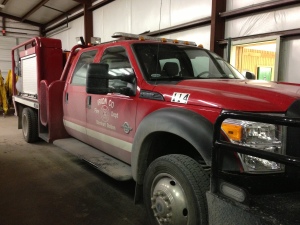 I did write a grant, and started a donation program to get Irion County a new First Responder Truck.
This ended up getting funded from supporters of the community that I sent letters to asking for their help.
Then without any warning, I was hospitalized and underwent a life threatening surgery.
An illness like this can really make you stop and thank goodness that you can still count the roses.
Due to my condition, we needed to move closer to my fantastic surgeon in San Antonio at the Audie Murphy VA.  We sold our house that was in a paradise and relocated to Helotes, which is just north of San Antonio.  Thank goodness San Antonio has plenty of Grant Writers! lol
Now I am able to do what I love, Gardening, Grow all varieties of Basils, and Cook.  I found a grant that is not for Non-Profits.  Could I qualify for a grant myself?
Yes, really I did.  And you'll never guess what it's for.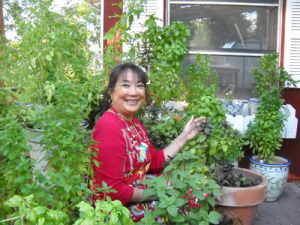 You all know my love for Basil and I'm trying to find every different variety that I can and teach people how to Love Basil.  And my next project is to write a cookbook using all the different varieties of Basil that I can.
This grant is for Researching Basil!  Any other plant on earth and I would have just been happy growing my Basil and cooking with it.  But a grant for Basil!  Is this crazy or what…this is right up my ally.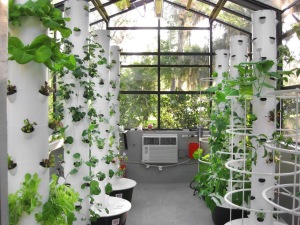 I have been researching and really want to grow all varieties of Basils.  I have found a wonderful system that is very space efficient and would handle as many Basils as I can grow.
Can you imagine all the different varieties of Basils that I could grow and write about?
And I would donate all the fresh Basils, to the cooking schools like, Sur La Table, which I have attended a lot of classes and love them.  To local restaurants so they could offer delicious basil dishes.  I would write all about Basil Recipes and be able to have plenty of articles to write about growing fresh Basil.
There is a big catch to this grant.  It is not a building grant.  So building the greenhouse and purchasing the Basil Towers is on my own.  This is a little set back, but if you have read my accomplishments, then you know this is a challenge that I plan on taking on.
Want to help?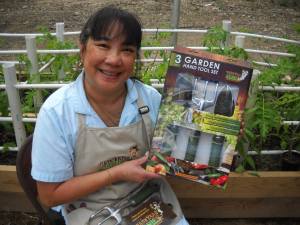 I have started another Blog:  Backyard Genie I share tips and recipes for Growing Farm Fresh Produce in Your Own Backyard.
The Backyard Genie has also branded a 3 piece Garden Tool Set.  Backyard Genie 3 Piece Garden Tool Set  
All the proceeds from the Backyard Genie 3 Piece Garden Tool set will go towards building the greenhouse and purchasing the Basil Towers.
This won't be a fast way, but it's a good way to start.
If you visit the information page at Backyard Genie 3 Piece Garden Tool Set, you will see that they are quality Garden Tools at a very reasonable price.  They are packaged beautifully and would make a great gift for any Gardener.
This part of my lifetime story was not meant as a sales pitch, but I have a BIG Dream, and I will 'Reach for Any Star' to achieve my dreams.
Love Your Basil,
Ramona Werst