I'm Proud to Have Served My Country
Page 1 Page 2 Page 3 Page 4 Page 5 Page 6 Page 7 Page 8 Page 9 Page 10 Page 11 Page 12 Page 13 Page 14 Page 15 Page 16
I served in the Air Force….
If you have been following my lifetime journey, or if you have ever read anything personal about me, you will know one thing about me by now.  My whole life has been an exciting journey. There aren't too many challenges I won't tackle and joining the United States Air Force was the challenge of a lifetime!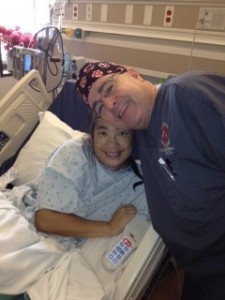 This section has taken me a while to write because I wanted my part to be as honorable as many of the Veterans whom I have met.
I didn't serve on the front line, but I have been very involved in military life.  And it's because of the wonderful doctors at Audie Murphy VA in San Antonio, TX, that I am here to accomplish my vision in life.  I've always had a vision of helping others, that's why I became an actress and raised money for charities.  From writing grants to help communities I have lived in, and volunteering at church.
I've wanted to give back and pay it forward as much as possible all of my life.   I realize it is by Divine Providence as well as a simple twist of fate that I am even here.  By that I mean here in this great country and being here alive and contributing.
I feel it's my duty to help others and make a difference in the world, even if it's just one  little difference.
I think I have found my purpose, and that's why I'm still kicking!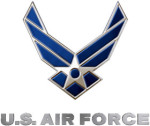 It was a  serious decision to enlist in the military.   I enjoy hearing from and visiting with all the folks who are currently serving or have served our country in all branches of the U.S. Military.  I currently live just outside San Antonio and San Antonio is known as "Military City."  A lot of veterans live here.
I served during non-wartime and my story will share a little about me behind-the-scenes and my vision to pay it forward in any way I can.
As most kids out of high school, I wanted to attend college.  I was having to pay for my education myself, so I had 2 jobs.  I had my own apartment, worked and attended a community college.  I had started college classes while in high school, so I had almost a full year completed before I graduated high school.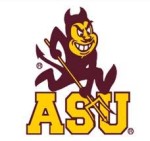 Times were tough and it was hard to save for tuition, but I was working and saving all the money I could.  I finished community college and enrolled at ASU.  (Arizona State University, home of the Sun Devils)
Now during this time in my life,  I had to work 3 part time jobs, juggle classes and still be able to get a little sleep!  This was all about to change.
I was walking by an Armed Forces Recruiting office and looked in the window.  I saw a good looking young man in uniform and he looked right at me and invited me in.  We started talking about me and what my current situation was.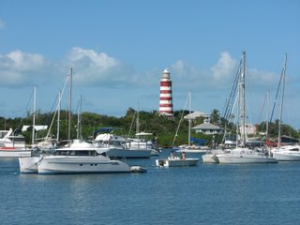 He showed me brochures of a life that could possibly be just what I've always dreamed of.  I dreamed big of traveling to exotic places, yachts, beautiful beaches, my education, health insurance, and of course all the money I would ever need.
He explained all the opportunities available to a young person who received the fantastic training the military offered.
If you have ever been woo'd by a recruiter, then you know exactly what I'm talking about.  The kicker was, he said all I have to do is sign the dotted line, and of course he suggested that if I would enlist, I could be on my way to an adventure of a lifetime.
I signed up!
I was now heading to Lackland Air Force Base in San Antonio, Texas.  It was in June and the hot weather was so different from the dry heat in Arizona.  Thousands of recruits before me have gone through basic airman training at Lackland AFB and I was one of them.  What an adventure!
I arrived late in the evening and was exhausted, but when I got off the bus from the airport, my adventure was to begin.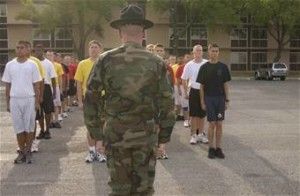 My thought was that we'd check in, get assigned to our barracks and get some much needed sleep to get a fresh start on the morning!  Ha!  Not a chance.
Right off of the bus there was a drill sergeant who met us and I really thought he was in a bad mood.  Little did I know.
My basic training experience was so much like the movie Private Benjamin with Goldie Hawn that I thought they wrote the movie about me! lol
Where were the yachts?  Sunny beaches?  Good looking guys in uniform?
The Air Force wanted me and I belonged to Uncle Sam.  I really enjoyed my time in The U.S. Air Force.  I totally recommend military service for all young men and women.  I learned many things and most importantly, how to be self sufficient and self motivated and disciplined in my approach to problem solving.
I have to say I enjoyed my enlistment and my service while I was in the Air Force.  I did my enlistment and then went on with other parts of my life, but my service was certainly one of the highlights of my life.
30 years later, I needed Uncle Sam and he came through for me.  In a section of my lifetime journey, you might have read about my life threatening surgery.  Thanks to Audie Murphy VA Medical Center in San Antonio, Texas, the town where my military adventure all started, the wonderful surgeons saved my life.
Pay it Forward….My Vision….
In my life, I have found  I enjoy helping people.  Sharing with them how wonderful life is, through my story telling ability and being able to paint the world seeing everything through my rose colored glasses.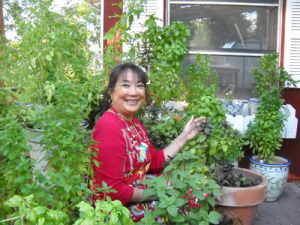 I still want to do this.  I want to help Veterans who have served our country and are now back in the USA, wondering what they will do with their lives now.
I wanted to work with Veterans who have a love for growing and caring for plants and a desire to create recipes that will tell stories of how ingredients can get along and  contribute to your overall health.  Veterans are already trained to approach situations in a disciplined and planned manner and many of them will find working with healthy foods and healthy lifestyle a natural fit with their training.
My vision was to grow many culinary varieties of Basil and teach the culinary world all about the delicious flavors Basil can add to gourmet recipes.  If you have looked through my blog, you can see that this is where I thought I was being driven.
But that wasn't my purpose….
I have been cooking and dreaming about writing my own cookbook.  I wanted to show a home cook, someone just like me, that with just a few basic techniques we could make a gourmet meal like the chefs in the fancy restaurants, but for a fraction of the cost.
I am obsessed with learning all I can about food, cooking, techniques and most importantly, flavor.  I have started my cookbook over several times in the past 5 years and now I know exactly what I'm doing and the direction I am heading.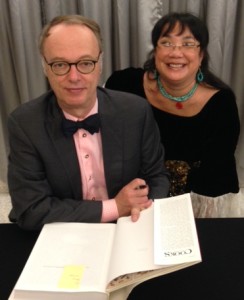 I have my favorite mentors I have been learning techniques from; my main mentor is Christopher Kimball with America's Test Kitchen and Cook's Illustrated Magazine.
I have found that not only is cooking an Art, but it's like being a scientist and chemist in the kitchen.
Boy, I wish I would have paid more attention in Chemistry! lol
You don't need to be a rocket scientist to cook, but if you know some of the basics of heat, water, and flavor profiles, then you can cook like the professionals.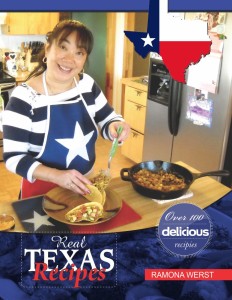 This year, I started my cookbook over once again, and I'm so glad I did!
With all that I have learned and am learning, my recipes are showing excellent flavors and I'm not too shabby on the presentation either.
I guess you are wondering what all of this has to do with the military and my vision….
I feel I can relate to military folks who have come back to society and feel like maybe that they don't fit in, or can't keep up with a social life like other people experience.  Some of them may have come back with disabilities.
I have found an escape in the kitchen where all my physical pain takes a back seat, where I can make people happy, and most of all, I feel like I can accomplish anything I can dream of.  When people see me, they think, you don't look sick, or like anything is wrong and you have as much energy as the energizing bunny.
Nothing could be farther than the truth.
A lot of the looking ok comes from my acting years.  I can put on a happy face and hide all my problems and have people see what I want them to see.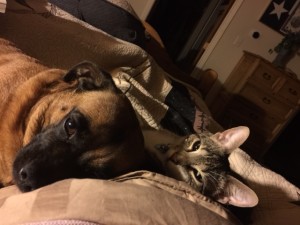 I'm not the energizing bunny by any means.  At home, just little tasks drain me and my bed sees me more than most people spend at work.  I have my nurses who make sure I want to take naps…who wouldn't want to spend time in bed with these cute nurses?  I sleep very little at night and sometime at 3 in the morning you will find me in the kitchen working on a recipe.
But I have adjusted.  I plan what I need to do to prepare, and do my recipes in steps.  I am very organized in the kitchen and I have learned to have very good time management.  I usually do all of my prep work, put in little containers, then take a nap.  I like to chop all of my ingredients and prepare all of my fresh herbs, this is my stress reliever.  Sometimes I take my ingredients to bed, like I pinch off all the stems on my spinach, or even crack and shell my pecans.
Then I prepare the recipe and while it's cooking or baking, take another nap.  Then we eat.  Sometimes poor David doesn't get to eat supper until 9 or 10pm!  But he doesn't mind because he knows it will be well worth the wait.
Here is where I can pay it forward…
I am creating recipes with techniques that anyone can do, they just need to be shown.  My recipes are all step by step with pictures and using all the techniques that I am learning.  I also plan to have videos for all the recipes too.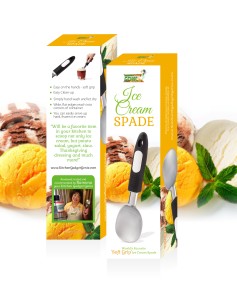 I know I'm on the right path.
However, I needed some assurance that my recipes could be the best and easiest to follow.
I reached out to all of my FaceBook friends and asked some of  them to try my recipes, post a picture, and a comment about the recipe, and in return, I'd send them my very own product, a Kitchen Gadget Genie Ice Cream Spade.
I had no idea if this would work.  But it's working and I'm so proud.
Here is what one home cook had to say: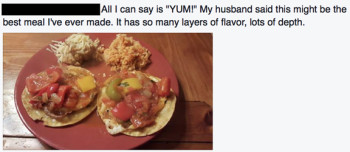 I'm shooting for a goal of 250 recipes by my birthday June 23, 2016.
I have found my purpose in sharing my story, my recipes, and helping home cooks, get in the kitchen and cook all the stress away!
Not only do I believe veterans with PTSD and physical issues like myself can succeed with these step-by-step- recipes, I also believe that anyone can benefit.  Success builds on success, and I am ready to be your biggest cheerleader in the kitchen.
I can still be of service in this way.
I'm Ramona Werst with BIG Cooking Dreams!
Proud to be a Veteran and so Proud of my service and country.