Preparing Lettuce Leaf Basil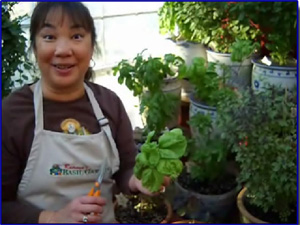 Lettuce leaf basil is considered one of the oldest basil varieties and as such, cooks have developed many good uses for this classic basil.
Cooks and chefs use the lettuce leaf basil directly in a salad, in pesto and they use the larger leaves as wrappers stuffed with cheeses and appetizers. The lettuce leaf basil itself is a compact looking plant, but the leaves can be fairly large as much as 4″ wide by 6″ long, thus their use as wrappers. Also, since the leaves are large, the lettuce leaf basil is sometimes used in place of….lettuce in sandwiches. A large Italian variety is also used for pesto and in basil oil.
Lettuce leaf basil is a fairly common variety and the leaves are flavorful in hot growing conditions. They can be used all summer long by simply taking care when pruning and harvesting the second set of leaves.
Give lettuce leaf basil a try this summer in a variety of ways. You'll be glad you added a little lettuce leaf basil to your summer dishes you are preparing.
In this video, I am clipping my Lettuce Leaf Basil, and then I show you how to wash basil.  In my kitchen I am washing Cinnamon Basil, but I do the same process with Lettuce Leaf Basil.  I have big ziplock bags of Lettuce Leaf Basil in my freezer, I use Lettuce Leaf and Sweet Basil in my cooking.
You can enjoy all year round by growing in container pots in your kitchen or greenhouse too! That's what I do…