Preparing Your Spicy Globe Basil
This month we'll be working with Spicy Globe Basil. You'll really enjoy the delicate spicy flavor of this Basil.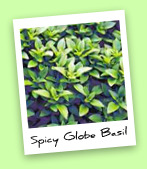 I think my favorite recipe is my Spicy Globe Basil Southwestern Turkey Soup. It's a version of Tortilla soup, using the leftover Turkey carcass and spicing it up with Spicy Globe Basil.
By now you should have received your Spicy Globe Basil seeds and they should be planted and sprouted. It may not be quite ready to harvest, but it will be ready soon and you can enjoy this month's recipes. If you haven't planted yet, you might be able to find Spicy Globe Basil at your local nursery.
To download a printable version of Preparing Your Spicy Globe Basil, click on the Hyperlink: