Preparing Your Thai Basil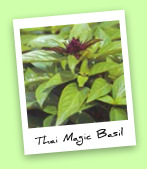 Welcome to our second Basil Month. This month we'll be working with Thai Basil. Thai Basil is another one of my favorite basils, and I have prepared several recipes using it.
I think my favorite recipe is my Thai Basil Picante Sauce. This Picante Sauce can be mild or hot in temperature depending on the peppers you choose to use. The Thai Basil adds just a little twist to the kick of Picante Sauce.
By now you should have received your Thai Basil seeds and they should be planted and sprouted. It may not be quite ready to harvest, but it will be ready soon and you can enjoy this month's recipes. If you haven't planted yet, you might be able to find Thai Basil at your local nursery.
To download a printable version of Preparing Your Thai Basil, click on the Hyperlink:
Love Your Basil,
Ramona Werst