sltest
"Learn To Grow, Care For, and Cook With Basil"
You're not growing and cooking with your own fresh basil yet?
Specialty Basils are not hard to grow and cook with.
It's easy and fun! Here is how a membership in
Ramona's Basil Garden works:

Just in the first month look at all you will be receiving
Personalized Basil Garden Apron.
Within 10 days you will receive your first starter packet of featured basil seeds and coconut pods.
You get the idea…You are going to get GREAT VALUE as a member. Your first month will get you started. Starting your second month you will start receiving great basil recipes. Ramona will send you a new packet of seeds each month, plus recipes 4 times during the month (and more on special holidays) to get you started learning to grow, care for, and cook with basil. Plus, she will send out a great gift each month. Just the frogs alone are worth the membership, but she has lots more. There are tons of videos and written, easy-to-follow instructions.
Plus each month you will receive a
kitchen gadget, a decorative frog,
gardening gadget, or
other premium gift.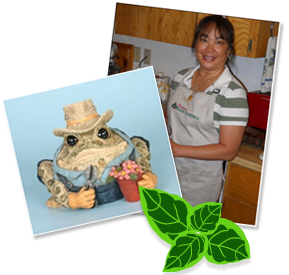 Bonus Lesson
Premade Hothouse Kit from the Park Seed Company
Lesson 2
Planting Basil Seeds
Bonus Lesson
Day 5 – Sprouts in Mini Hothouse
Bonus Lesson
Transplanting Young Basil Plants
Lesson 3
How to Build a Propagation Box
Bonus Lesson
Transplanting the Basil Sprouts
Lesson 4
How to Build a Grow Box
"I just love basil and want to share with others."
Click Here to watch the videos


"Being a member of my membership site will be a lot of fun as we grow our community of basil lovers from all over the world. I already have new friends right here in the USA and as far away as the UK and Hungary. I would really love to have you as a member and get to know you while we grow, care for, and cook with basil together.
Come and join in the fun."
…. Ramona
Take a look at a sample recipe that
you will receive. You will receive 4
recipes each month of the featured
Specialty Basil.
Click Here to view the Pasta Recipe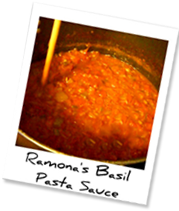 As a member of Ramona's Basil Garden membership site, you will keep on getting great gifts, recipes, and tips month after month as you learn to grow, care for, and cook with your specialty basil.
In other words, you will be getting all the tools, tips, seeds, and recipes to be a successful basil gardener as we learn to cook with basil together.
Here is a real Testimonial
"You can also enjoy her
recipe of Spicy Globe Basil
Blackberry Tart. You could
not order that dessert in a
fine restaurant……
it was soooogoood!"
– Michael of Austin, Texas
Specialty Basil seeds are sometimes hard to find. You'll receive a packet of the monthly featured Basil. (You'll receive a month prior to the recipes, so you can start growing your featured Specialty Basil)
Weekly Recipe for the featured Specialty Recipe for the month. Step-by-step instructions on growing, caring for, and cooking with thefeatured Specialty Basil; in text, video, and downloadable printableformats.
Fun Garden Gifts and Kitchen Gadgets each month
Just for joining Ramona's Basil Garden membership community you will receive a Personalized Basil Garden Apron
Click Here to Visit Ramona's Basil Seed Exchange Forum
Be creative with your Specialty Basil, send me your favorite Basil recipe to possibly be included in my Basil Recipe Cookbook.
Be proud of your Basil Garden, send me a picture of you and your Basil Garden with your story to be featured on my blog.

to purchase ($27 per month, 1 year commitment, but can cancel at anytime. If you cancel and rejoin you will have to start at month 1 again)
Ramona Werst

ramona@ramonasbasilgarden.com
I'm so sure you will love your membership….
Here is My Guarantee:
Ramona's Basil Garden membership site is a fun site that is not only offering you step-by-step instructions on how to grow, care for, and cook with fresh healthy Specialty Basils, but I am also sending you
personalized items, seeds, gadgets and collectibles.
Ramona's Basil Garden Membership Community wants you to be happy with your membership and I hope you understand that I can not refund on personalized merchandise. You can however, cancel your membership at any time and once I receive the monthly collectible, or gadget, if it has been sent out, I will cheerfully refund you for that month. (Member will be responsible for postage of returned item)
We don't want any unhappy Basil lovers!
You keep the seeds and recipes as my thank you for being a valued Ramona's Basil Garden Member. If you are not satisfied at anytime, please contact me "personally" and I'll be happy to resolve the issue. There is no risk and a lot of basil knowledge to gain.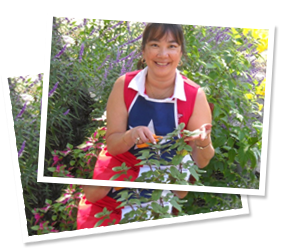 P.S.
You're going to have fun growing, caring for, and cooking with Specialty Basils with easy step-by-step instructions, videos, and printable .pdf's for each monthly featured Specialty Basil.
Specialty Basils can be easy to grow and enjoy cooking with!
Don't forget you'll receive
A Personalized Basil Garden Apron
Monthly featured Specialty Basil seeds
Gadgets and collectibles
Weekly Specialty Basil Recipes for the featured Specialty Basil of the month
Love Your Basil,
Ramona Werst