Neighbor Basil Gardener Kerry Pape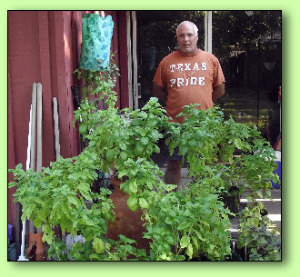 Hello, my name is Kerry Pape from the San Angelo, Texas area. I started growing a few herbs years ago after building a greenhouse on the north side of San Angelo. In my greenhouse I grew geraniums and ivy along with some poinsettias and tomatoes and such. Along the way somewhere I discovered that basil plants really like the hot conditions of West Texas and my greenhouse in particular. I sold some of my plants at the local farmer's market. I got a combo seed packet and had good luck sprouting seeds and found that basil is just about the tastiest and easiest plant to grow.
I plan to follow Ramona's Basil Garden now that I have found it and plant even more basil and try to catch up with Miss Ramona in her selection of plants and varieties. I also plan to build a greenhouse before winter gets here. I'm proud of Ramona's Basil Garden and proud to be a friend of basil.
Kerry Pape
San Angelo, Texas
Here are some of Kerry's favorite Basils: