Spicy Globe Basil Spinach Rigatoni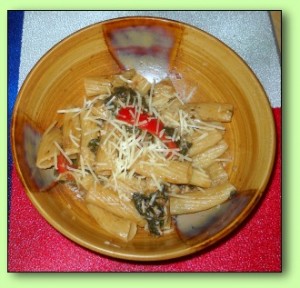 For a quick, nutritious and delicious meal, this is a super dish!
There is no meat in this dish, but you could add some chicken, shrimp, or even beef.  The Garlic Vinaigrette adds a really nice fresh flavor.
You can download and print a full version of the recipe, just click on the hyperlink below:


Ingredients
1 small package fresh Spinach, coarsely chopped
1 bag Rigatoni Pasta Noodles
1 medium Onion, diced
1 Red Bell Pepper, diced
1 teaspoon Kosher Salt
1 tablespoon Butter
1/2 cup Parmesan Cheese, grated
Garlic Vinaigrette
1 Garlic clove, minced
2 tablespoon Red Wine Vinegar
1/2 cup Olive Oil
Mix the Garlic Vinaigrette together and set aside.
Parmesan Cheese, grated for garnish
Directions
Add Rigatoni noodles to a pot with boiling water. Cook until they are at the tenderness you prefer.
In a skillet, heat the Olive Oil. Add the onions and garlic. Sauté, until the onions are translucent. Add 1/3 of the vinaigrette, red peppers and Spicy Globe Basil. Sauté until the peppers are tender.
Add the coarsely chopped spinach, salt and the reminder of the vinaigrette to the onion mixture and stir.
Drain the Rigatoni. Add the butter and stir. Add the spinach and onion mixture to the Rigatoni. Stir the mixture and add the parmesan cheese.