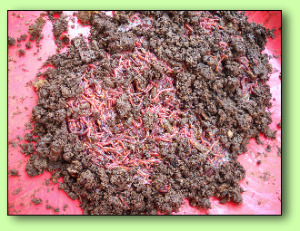 I am so excited to share with you this multi section interview with Jerry Schiller.  Jerry raises worms!  He feeds them, cares for them, and knows all about the benefits of gardening with live Red Wigglers and the worm castings they produce.
Worm castings are my greatest "secret weapon" to growing healthy, vibrant basil pants as well as healthy and fantastic looking vegetables.  Worm castings almost guarantee a healthy start to your new plants.  In test after test, the plants I have used worm castings on are much healthier and vibrant than the plants which did not get the 'magical' worm casting treatment.
It's nature's natural Superfood!
Every single basil gardener and home vegetable gardener should listen to every word of these interviews and get some worm castings of your own.  What a great natural product to enhance your natural gardening efforts.
In this section we are actually interviewing at a worm farm and you are not going to believe all of the information we are going be to sharing with you!  It is totally fantastic! Just click on the tab 'All About Worm Castings' and you can learn all about the benefits of Worm Castings.