Basil Gardeners use Worm Casting Tea
Worm Casting Tea is great for plants
Many Basil Gardeners grow Basil in containers.  Many gardeners let their Basil plant grow and at the end of the season, harvest the Basil seeds and start over the next season.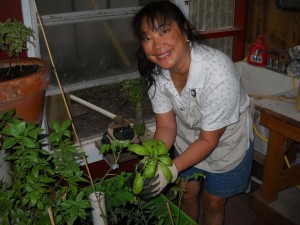 To get a larger, more flavorful Basil harvest, Ramona talks to Jerry Schiller about making a Worm Casting Tea.  If you are planting directly in the ground, then you can use as much worm castings in the soil as you wish.  It will not burn or harm your plants.  If you are growing your Basil in a container, you can plant your Basil in the container using worm castings and then feed your Basil periodically with a worm casting tea.  The benefit of using a worm casting tea is that it will immediately feed the Basil and give nourishment to the roots.
Worm Casting Tea Recipe
1 cup Worm Castings
5 Gallons Water
Directions
Place the worm castings in a bucket and add the water.  Let sit for 2 days or until the water is a stained color.  Dip out the water and apply directly to your Basil plant (can be used for any plant).
When the bucket is empty, you can keep adding water until the water won't stain.  Then swish the water around and pour in your garden.  Your garden will still benefit from the worm castings.
Here is the interview with Jerry Schiller…