Earl Bishop, Specialty Herb Grower
I got into gardening 6 years ago when a stroke left my left arm and leg paralyzed, meaning I could no longer follow my profession as a structural engineer.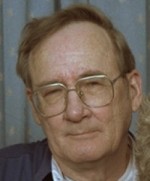 I began gardening as physical therapy as soon as I could walk with a cane, and over the next 5 years I filled my little (70'x70′) back yard with an array of bushes and perennials. Looking around for something else to plant, I purchased a small (6'x8′) greenhouse kit and began raising tomato sets and other bedding plants. When these were all gone I looked around for something else and discovered herbs.
Basil quickly became the herb of choice since it was easily grown and tasty on the dinner table as well. This year I plan on increasing the number of varieties from 2 to 12. Room is a problem, but like Scarlet, I will worry about that tomorrow. Should anybody be interested, they can reach me at
http://www.earlsherbs.com
Earl D Bishop
Independence, MO
We are a small specialty grower of herbs, specializing in basil. For now this is my wish list, but come spring 2011 it will be a reality.
We also produce a limited quantity of oregano, thyme and sage. In season we will have tomato, cucumber, cantaloupe and bell pepper sets as well as marigolds. Later in the fall we will have available a lmited selection of Mum plants.
It is my hope that in fall of 2011 we will introduce our own line of herb vinegars. Initially they may be limited to a red wine vinegar base, but will be expanded to include white wine vinegars as well.