Cinnamon Basil Chicken over Bowtie Pasta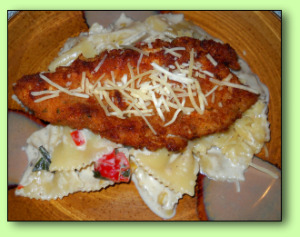 This dish is a rich and creamy Italian style recipe.
If you don't have Bowtie Pasta, you can use any other pasta, it will taste just as delicious!
Click on the hyperlink below for a printable version of the recipe:
Ingredients
4 tablespoons Olive Oil
4 skinless boneless Chicken Breast halves
3/4 cup seasoned Bread Crumbs
1/4 cup Parmesan Cheese
1 cup Milk
2 tablespoons Flour
Sauce
1 tablespoon Butter
1 small yellow Bell Pepper, chopped
1 small red Bell Pepper, chopped
1/4 cup Scallions, chopped
3 whole Garlic Cloves, minced
1 teaspoon crushed Red Pepper
2 1/2 cups heavy Cream
1 cup Chicken Broth
4 tablespoons fresh Cinnamon Basil, chopped
1 cup Parmesan Cheese, grated
1 cup Mushrooms, sliced
Salt and Pepper
1 package Bowtie Pasta
1/4 cup Parmesan Cheese, grated (to sprinkle over finished dish)
Directions
Take the pieces of the chicken breast and place on parchment paper. Cover the chicken breast with a plastic wrap. Pound the chicken breast pieces real thin. Make sure that the pieces are about 1/4" thick after you have pounded them.
Add the bread crumbs on a plate. Add the flour and fresh grated parmesan cheese to the bread crumbs. Mix with a fork.
Take the chicken breast and roll in the bread crumb mixture. Dip the pieces in milk and roll it once more in the bread crumb mixture. Set the pieces on a plate.
Fry the chicken breast pieces and put them in an oven that is at 170°F to keep warm.
Cook the Bowtie Pasta in boiling water. Drain and rinse with cold water. While the water is boiling, heat up a pan, add butter, chopped red bell pepper, chopped yellow bell pepper, little green onions and mushrooms. Sauté the mixture for about 2 to 3 minutes until vegetables are cooked.
Add garlic and red pepper flakes and stir that in to the vegetable mixture. Cook the whole mixture at medium to medium high for about 2 to 3 minutes.
Add heavy whipping cream and chicken stock to the mixture. Cook the mixture for about 5 to 10 minutes, to reduce the liquid and thicken. Add the parmesan cheese and chopped Cinnamon Basil. Turn the heat down and allow the mixture to cook down and continue to thicken.
Toss the pasta with the sauce and add it to a plate. Add a piece of the chicken and sprinkle some parmesan cheese on top.