Al Creighton from Ireland
Al won the free Basil seed giveaway that I ran for several months to promote Love Your Basil Facebook page.  I was so excited when I received his sweet email and his excitement in receiving my Basil seeds.  I hope all the different varieties grow and I know that they will be happy in their new Ireland home!
Al's email was so nice that I thought I'd share it with you: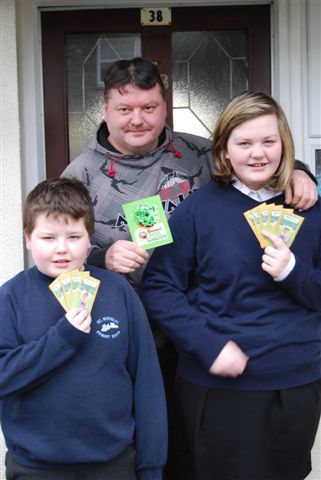 Dear Ramona,
I very gladly received my various packs of your own personal, fine 'Ramona's Basil Garden' seeds today.
I must say that you offer a very prompt and friendly service, and getting the seeds so quickly across the Atlantic to Ireland astounded me.
In fact when I was having a few momentous pictures taken, many of my neighbours rushed out to see what new project I was up to.
Now even more are looking a little taste of my garden, but I,m sure I'll have an abundance to go around, and I can even afford to share out some seeds to my gardening friends.
Such a little package from yourself brought so much of a stir and happiness around my home today, and no doubt that happiness will grow and spread.
You have sent a little taste of your life and and heart felt work for us to organically tend and care for over the next few months and perhaps many years to come.
I will look at my basil and always have a twinkle in my eye thinking of you and hoping you and your kin are well Ramona.
I will be sowing some basil seeds tomorrow after a little spring clean of some pots and getting in some good, new organic compost. Once I am seen doing anything, I find it hard to get anything done as doing a bit of gardening makes more people stop to have a look and a chat than anything else. Maybe they just like to nibble my herbs and other fruit and vegetables even though I only have limited space, but who cares when it brings interest and friendship? Home grown food always does seem to taste much nicer for some reason or other.
I have included in my quick note, a few photos taken today, but I will be taking some more photos in the future covering the sowing, growing, harvesting and most certainly to some, the most enjoying part, eating 'Ramona's Basil Garden' produce. I get so attached to some plants that I don't like to harvest them for the table but these gifts were given to us all to enjoy and share, and of course there are ways to keep a little friend living beyond one meal or season. I will send you more photos over the next months showing you, and everyone else how I and the basil plants are getting on. I hope yourself and others can have some enjoyment in the photos and notes I send in the future.
You have given me another good worthwhile project in life and I'm sure I will mention your name and your services greatly to others for some time to come.
Thank you once again "Ramona's Basil Garden" for sending me life to share.
May your kind heart and buisness grow like your seeds.
I will be in touch with news very soon so please take care for now.
May your fingers stay green for good Ramona.
Yours Sincerely,
Al Creighton