Cyndi Martin, Burke, Virginia
Cyndi won this month's Basil Seed Giveaway and was so excited.  She wrote me and told me that she Loved her Basil and has shared a delicious Basil Vinaigrette Recipe.
'Basil is one of my very favorite flavors.  When it's in season I can't keep it around because I devour it.  I eat a LOT of bruschetta and caprese salads.  This is sort of a caprese salad.  I used an arugula mix, fresh mozzarella balls, teeny heirloom tomatoes, and a basil vinaigrette.  It was more popular than the pasta I made to go with!'
Basil Vinaigrette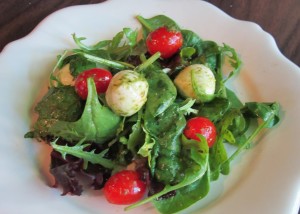 Ingredients
1 small Garlic Clove
1 cup packed Basil leaves, coarsely chopped
1/4 cup extra-virgin Olive Oil
1 1/2 T Apple Cider Vinegar
Pinch crushed Red Pepper flakes
Sea Salt & freshly-ground Black Pepper
Directions
In a food processor, pulse the garlic until chopped.
Add the basil and pulse until finely chopped.
Add the oil, vinegar, and red pepper and process until smooth.
Season.