Reach for the Stars
Page 1 Page 2 Page 3 Page 4 Page 5 Page 6 Page 7 Page 8 Page 9 Page 10 Page 11 Page 12 Page 13 Page 14 Page 15 Page 16
"Reach For the Stars! After you catch one, there are millions more to Reach For!"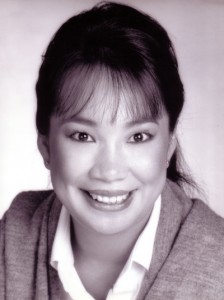 I've always been a dreamer.  In fact I was voted the 'Biggest Dreamer' in high school.  My life motto is: "Reach for the Stars, after you catch one, there are millions of others out there to Reach for!"
As a little girl, I was surrounded by stars.  I grew up in Arizona.  My dad (Bill Kline), the dad that raised me, worked for the Coliseum and for the hotel that the stars who came to town stayed at.  I got to know Buck Owens, Roy Clark, the Harlem Globe Trotters, Andy Williams, Kenny Rogers and the 5th Edition, and several others.  My dad would take me back stage and I'd hang out with all of my new friends.
When I was a child, I remember Roy Clark handed me a piece of beef jerky.  I chewed and chewed.  He noticed that I was still chewing on it and asked me if I liked the beef jerky.  I was taught not to talk with my mouth full, so I motioned to him to hold out his hand and I spit out the beef jerky out in his hand.
When I was in high school, he invited me to a show.  He held up his hand so the audience could see, and said "This won't mean anything to you all, but it will to someone special…I still have jerky stains on my hand!"  Then he told the audience the story of how we met.
I went into the Air Force right out of high school.  I think the Goldie Hawn movie Private Benjamin was written after me!  In the seventies we wore our pants tight.  I would pick out my fatigues a size too small so they would look a little better.  I remember my staff sergeant put a rock in my right hand, because he barked out a command and I turned the wrong way.  He told me that when he said 'Rock' I was to turn right.  Okay!  He barked 'Rock', I shook my rear end as if I were dancing.  You guessed it, he was in my face, yelling at me "Kline, did you come here just to p…. me off?"  Well if you have been in the service you know you really can't win no matter how you answer, "Sir Yes Sir!"  5 laps for that lesson.  Should I go into Comedy?
Out of the Air Force I met Michael Anthony Ricker.  He was a famous Pewter Sculptor. He had several Galleries across the states, and wanted to build a museum to house all of his sculptures.
Michael has been recognized as an outstanding sculptor through his presentations and commissions to The White House, former President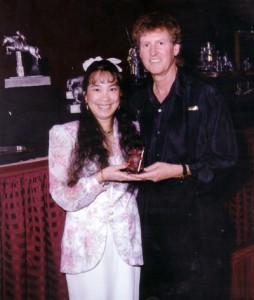 Reagan, former President Ford, The Professional Golf Associations, Disney, Grumman Aero Space Corporation, plus many others.
I approached him with the idea of traveling and presenting his art in shows around the country near his existing galleries and as I introduced a new collector to his work, the gallery would take them over.  He loved the idea.  There was a gallery that wasn't doing very well in Smithville, New Jersey and he asked if I'd like to go and run that gallery.  I loved working in the gallery, and  meeting all of the tourists that came through Smithville.  The gallery was just outside of Atlantic City and I suggested that I host a dinner at a casino, invite my collectors, and Michael could sign their sculptures.  He loved the idea!
He built his Museum in Estes Park, Colorado and invited me to event.  I met several celebrities, Chad Everett (who was my childhood idol and  played Dr. Joe Gannon of Medical Center), Sandy McPeak, The Lettermen and so many more.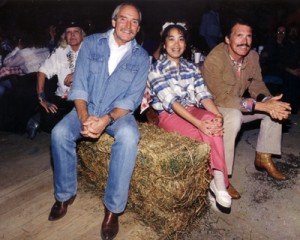 Chad Everett is one of Hollywood's versatile actors, he has displayed his talents in roles that stretch from comedy to romantic leads, to heartless villains.  In 1987 he received a star on the "Hollywood Walk of Fame."
Sandy McPeak's film and television credits are very extensive.  His television credits include: Quantum Leap, Murder She Wrote, LA Law, and numerous others.  His film credits include The Onion Field, Patton, Kelly's Heroes, The Osterman Weekend and many more.
It was a first class event, with a golf tournament, black tie supper and The Letterman entertained us.  This was the beginning of my BIG Dreams!  Their music has always and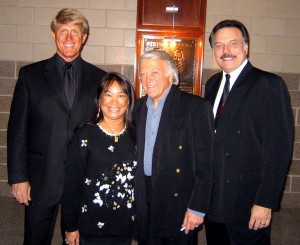 still is FANTASTIC! I grew up with all of their songs at home, because my mom was a fan. Hit after hit propelled the group to the top of the charts: "When I Fall in Love," "Theme from a Summer Place," "Put Your Head on My Shoulder," "Hurt So Bad," "Shangri-La" and "Goin' Out of My Head/Can't Take My Eyes Off of You" are but a few of the familiar favorites.
The Lettermen are an American pop music vocal group. The Lettermen's trademark is close-harmony pop songs with light arrangements. They were popular mainly with adult audiences during the 1960s.
Pictured:  Donovan Tea, Ramona Werst, Tony Butala and Mark Preston (The Lettermen)
I went back to Atlantic City with stars in my eyes.  I was awarded the "Greatest Comeback Award" from Rolf Benirschke.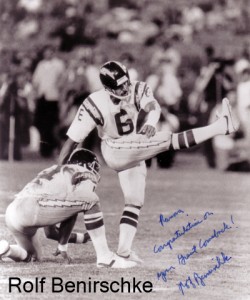 As the place-kicker for the San Diego Chargers for 10 seasons, Rolf held 16 team records and was the third-most accurate kicker in league history when he retired.   What makes Rolf's football career so remarkable is that he played the majority of his career with ulcerative colitis and an ostomy.
Through his work as the founder of the Great Comebacks™ Program, Rolf has provided patients and family members who face the physical and emotional challenges of Inflammatory Bowel Disease with hope, inspiration and education for more than 20 years.
I talked with people that had iliostomy surgery to show them that they could still have a meaningful life; and that an iliostomy was just a convenience that enabled them to live life without pain.  I did print ads for Convetec a medical supplier.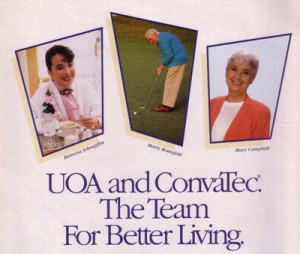 The light bulb came on!  Why not become a celebrity so that charities could use my name to raise money!
That was my next goal.
What did I need to do to accomplish this new adventure?
I needed to learn acting, that was my first step.  I didn't want to do theater, I wanted to be in front of the camera!  I started acting classes right in New Jersey and traveled to New York to audition.  I even had a manager, who helped find me auditions.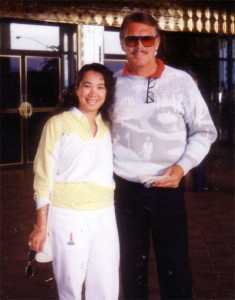 I traveled to different celebrity golf tournaments as a guest of my special friends.  I even got involved in setting up celebrities for the events, publishing the program, and working with the celebrities once they arrived at the tournament.
One celebrity golf tournament that I helped with was hosted by Chad Everett in Las Vegas, Nevada.  Being surrounded by celebrities and all the glitter and lights was so magical.
If you play golf, you really need to experience a Celebrity Golf Tournament.  They are first class.
I met Fostor Brooks, one of the nation's outstanding comedians.
He appeared on "The Smothers Brothers Show" and was in "Paint Your Wagon" where he played a drunk.  He actually plays golf in cowboy boot golf shoes!  He's so funny as he tries to tee off or putt drunk (he's really not drunk, but sure does play a good one!).
Billy Barty was also a good friend back in those days.  He is 3′9″ and a giant in the world of entertainment.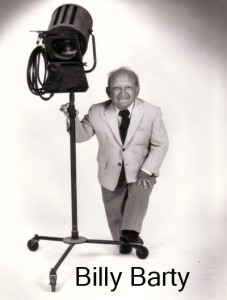 He has appeared in over 200 films and on hundreds of television shows.  He has a special custom set of golf clubs and plays the piano.
As a tireless campaigner for the rights of Little People and the disabled, he has proven himself to be a man of both physical stamina and emotional stature.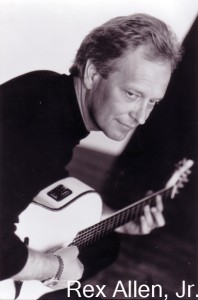 I just love Rex Allen, Jr.!  His voice is so low, it sends goose bumps up my arms!  Chad, Sandy and I were having breakfast, and Chad asked me who my favorite male singer was.  I said "Rex Allen, Jr., he sends goose bumps all over me!  Right behind me was Rex having breakfast.  He overheard me and came over to introduce himself.  I was a little embarrassed, but we became friends and I still love his voice.
Rex's top-40 singles include:  "Lonely Street, No, No, No, and It's Over.  His song "Arizona" was adopted as the official song of the state in 1982.
The celebrities that participated in my golf tournaments  really did  more than just show up.  They block their time to do interviews, sign autographs, are paired up with individual groups to play golf, and are the entertainment at the finale Black Tie Supper.  Your entry fee is priceless and included is the golf, food, and the entertainment.  You couldn't pay to have all these celebrities perform in one show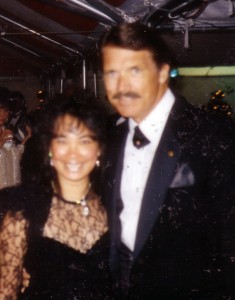 anywhere else.  Some of the celebrities you know from TV or Film, but did you know they have other talents?  I didn't know that Chad Everett could sing!  Why didn't he cut a record?
Chad is really a great golfer too!  He's a scratch golfer.  I know you are asking if the celebrities get paid to make their appearance.  Yes and no.  Their expenses are usually picked up by the corporate sponsors, and from the entry fees for the golf tournament.  The host is usually compensated.  Chad donates his compensation to the charity.
My acting career was taking off.  It wasn't at all like I dreamed it would be.  Where was the glamor, the lights and autographs?  I did print ads, industrials (training films) and extra parts.  Hurry up to stand around for hours for a 2 second shot and then stand around some more.  The pay was good if you didn't divide the hours into the paycheck.  And no one knew my name!  I was requested because I was Asian without an accent for industrials.  I even had one producer inform me that he had my special food ordered for lunch.  Did he think I was a Martian?  He had Chinese food for lunch!  I'm not Chinese!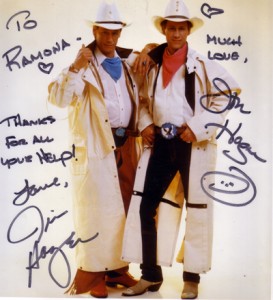 I accepted a position as a record label assistant and moved to Nashville, Tennessee.  I had met Jim and Jon Hager, you might know them as the Hager Twins.
The Hager Twins delighted us every week as stars on "Hee Haw".  Their many appearances include:  The Bionic Woman, The Merv Griffin Show and many others.  Jim and Jon have played the leading roles in the ABC television movies "Twin Detectives".
I managed them for a short time, and spent many hours in an editing room, editing some of their music videos.  We went everywhere together and were very close friends.  Both Jim and Jon have passed away, and I  miss them dearly.
I continued my quest for fame.  I was in several Country Music Videos, commercials, more industrials, and I had my first real movie part!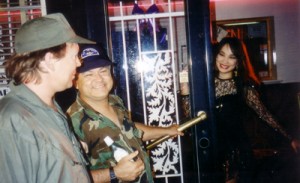 I was featured in a movie that I played a stripper.  I remember I asked if they would disinfect the pole before I touched it.  Not saying anything bad about the circumstances, but you could say I was being a picky actress.
Those were the days!  I went from set to set playing different characters.  I even played a day part in the soap opera "Another World." You can only imagine, I was the one who was characterized as a loose woman!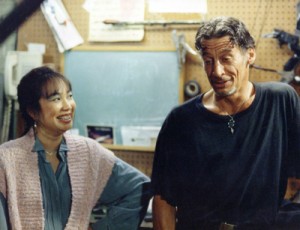 I even had my name on a trailer door that I rested in until my next take.  With movies,  a lot of the filming ends up on the cutting room floor as did most of my part.  But I did receive credits and became friends with Jim Varney.
He was best known for his character Ernest P. Worrell, originally created by Nashville advertising agency Carden and Cherry in the 1980s. The character was used in numerous television commercial campaigns and movies in the following years, giving him fame worldwide. He is best known for his slapstick style and his portrayal of "redneck" stereotypes in a friendly, approachable way.
I played his wife and there is a memorable line that my husband David loves.  Jim is describing me to the main character and says "She's high performance, low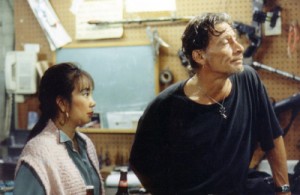 maintenance!" He slaps me on the butt, but it's a quick part.
If you watch the movie, my name used to be Ramona LeBaron.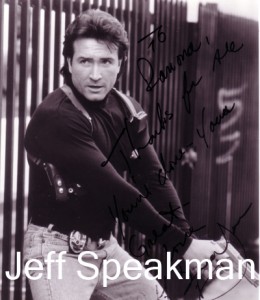 The movie is "The Expert" featuring Jeff Speakman and Jim Varney.
Jeff Speakman currently holds a 6th-degree black belt in Japanese Goju-Ryu and a 6th-degree black belt in American Kenpo Karate. He is also found and director of American Kenpo Karate Systems (AAKS), an international kenpo karate organization with more than 50 schools. In 1993, Jeff was inducted into the Black Belt Hall of Fame as "Instructor of the Year." Jeff has only been studying acting for the past ten years.
Jeff plays Johnny in the movie.  Johnny's sister is brutally attacked and murdered by a sadistic serial killer. At the trial, he is sentenced to be electrocuted, but a bleeding heart liberal has the sentence commuted to time in a mental facility. There, he would  interact with other model prisoners and give talks at schools while he is being treated. The only problem is that Johnny, being an ex-special forces trainer, is coming to the prison to seek his own justice and that does not include rehabilitation.
I became a SAG (Screen Actors Guild) member!  That was an accomplishment.  You may be asking why I have gone into such detail about my acting career.  It took me over 10 years to achieve Star status and you will see in my next lifetime journey post what this did for me.