Basil Seed Give Away!
Since I have over 60 different varieties of Specialty Basils in my own personal collection,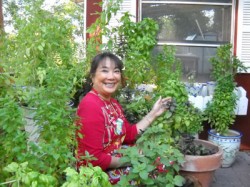 I have thought it would be nice for me to share some of my Basil seeds with my Basil Friends!  As you read the ways to use basil, you will come to find out that basil can be used in your culinary dishes as well as used as a decorative plant.  What better way to enjoy basil than to surround yourself with an edible garden!  So, read on and find out how you can enjoy basil as much as I do and learn to cook with, care for, and grow more basil.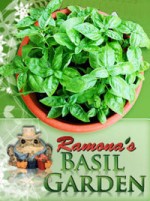 All you have to do is 'Like' Ramona's Basil Garden FaceBook Fan Page and you'll be entered in the drawing for all the below listed Basil seeds.  I will draw on the 15th of every month and contact the lucky winner so I will know where to send your Basil seeds. (Don't worry, if you are already a fan, you're entered too)
Here is an example list of the Basil Seeds package that I'm giving away (seed variety may vary from month to month):
Cinnamon Basil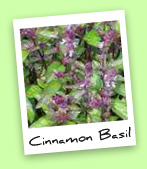 Cinnamon basil is an attractive plant it is one of the most common used basils by bakers. It has a cinnamon flavor and scent. It will fill the air with the sweet scent of cinnamon and your baked goods and other dishes will have a nice sweet savory taste when using this basil.  You should really try my cinnamon basil cookie recipe.  Store bought cookies will never taste as good as these freshly baked cinnamon basil treats.
Dark Opal Purple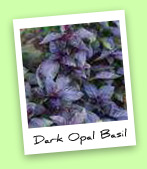 Dark Opal basil is a popular sweet basil. It has beautiful eye catching purple leaves that get darker as the basil plant matures with tiny little pink flowers. Aside from being a colorful garden plant the basil is perfect for any Italian dish.
Dwarf Greek Basil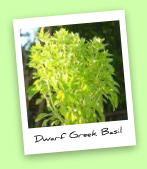 Dwarf Greek basil is well liked by chefs. It is used in salads, soups, all meat dishes, especially poultry. It has a nice scent and savory taste. It also serves as a garnish.
Lemon Lime Basil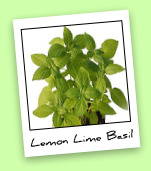 This Blend is sold with two different seeds in one package. Has a freshly citrus scented and is mild enough for flavoring grilled fish or shrimp salad.  Pasta dishes with vegetables and chicken are delicious with the tasty citrus based basil. Lemon Lime basil is an essential basil for anyone contemplating cooking with basil.







Mammoth Basil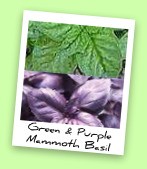 Mammoth basil gets its name from the "mammoth" size leafs it produces. It is the largest leaf basil of all varieties. The leaves can be green or purple.  Mammoth basil is very popular and sometimes stores are sold out of the plants especially in the off season.
Red Rubin Basil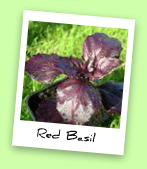 Red basil despite the picture is actually purple when in full bloom. This basil is also called "Red Rubin Basil". This basil will liven up any garden with its natural beauty and scent. This basil is a sweet one and excellent for any dish that requires a sweet basil.
Spicy Globe Basil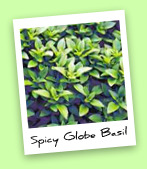 Spicy Globe basil is another all green basil plant that looks nice when used as a garden border. It has a very strong flavor and scent. It is favored by Italian chefs and cooks who love a good spicy meal.  We use lots of Spicy Globe Basil here at Ramona's Basil Garden and now you can too!
Sweet Basil
Yum, Yum, the delicious leaves are great with your garden staples such as tomatoes,onions, peppers, potatoes, fish, and fowl.  We have it right next to the pepper/tomato garden to make it convenient to mix it in.  Yes, this is a fresh garden staple and it plays well with most other herbs.
Thai Magic Basil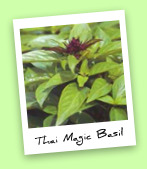 Thai Magic basil is also known as "Sweet Thai basil and Oriental basil" this basil produces large leaves and stems and flowers late allowing more time and use for the basil. It is used in Thai dishes and any dish that requires a sweet taste. It has a nice red flower and looks nice in the garden once the flowers have bloomed.
All of these Basil seeds have brought me a lot of pleasure in their beauty and flavors, I hope they all end up in a wonderful Basil Gardener's garden!
You have to enter to win!
Good Luck and Love Your Basil!
Ramona Werst
PS. Don't forget, all you have to do is 'Like' Ramona's Basil Garden FaceBook Fan Page and you'll be entered in the drawing for all the below listed Basil seeds.  I will draw on 15th of every month and contact the lucky winner so I will know where to send your Basil seeds. (Don't worry, if you are already a fan, you're entered too)
Past Winners:
September 1, 2010 – Anna Schueler
September 15, 2010 – Steve Mahaney
October 1, 2010 – Teresa Brooks
October 15, 2010 –Gabriele Sinzig
November 1, 2010 – Terri Keeler
November 15, 2010 – Richard Atkinson
December 1, 2010 – Lezley Nichols
December 15, 2010 – Ray Bickerstaff
January 1, 2011 – Daniel Manzini
January 15, 2011 – LetsGo Green
February 15, 2011 – Kathy Ceske Kauno
March 1, 2011 – Starra-Neely Blade
March 15, 2011 – Al Creighton
April 1, 2011 – Jim Bob Solsbery
April 15, 2011 – Jennifer Hillman of Canoga Park, California
March 15, 2013 – Steve Mahaney (he's won twice!!!)
April 15, 2013 – Letsgo Green
May 15, 2013 – Shawn Phoenix
June 15, 2013 – Jennifer Hillman
July 15, 2013 – Adriana Torres
August 15, 2013 – Flor Tavarez
September 15, 2013 – Cyndi Martin
October 15, 2012 – Allan Anderson
November 15, 2013 – Eve Darling
December 15, 2013 – Sandra Bass-Meyer
January 15, 2014 – Amy Elizabeth
February 15, 2014 – Debbie Thompson
March 15, 2014 – Teresa Michelle Ward
April 15, 2014 – Lane Cockrell
May 15, 2014 – Girlyne Compal White
June 15, 2014 – Anita Gregg
July 15, 2014 – Misty Byers
August 15, 2014 – Vickie Medley
September 15, 2014 – Brenda Bononno
October 15, 2014 – Tiffany Grezinski
November 15, 2014 – Viki Hoover
December 15, 2014 – Teresa Michelle LaBar
January 15, 2015 – Sandi Norwood
February 15, 2015 – Karen Smith McAlliser
March 15, 2015 – Allison Roe
April 15, 2015 – Mika Stockman
May 15, 2015 – Brenda Young
June 15, 2015 – Katherine Voegtle
July 15, 2015 – Domingo Sedeno
August 15, 2015 – Mika Stockman
September 15, 2015 – Pam Cartner