Reach for the Stars Wine and Dine Club
Page 1 Page 2 Page 3 Page 4 Page 5 Page 6 Page 7 Page 8 Page 9 Page 10 Page 11 Page 12 Page 13 Page 14 Page 15 Page 16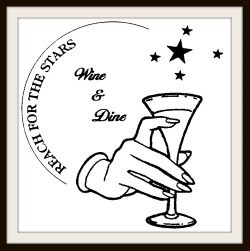 After becoming an actress and working with celebrities with their charities to raise money for worthy causes, I decided to take my vision in another direction.
I love entertaining, organizing events, and fine wine with gourmet dining.  Why not start a Wine and Dine Club?
I was hosting Monday Night Football, while working with the NFL Alumni, so my thinking was that this should be another fun adventure.  And it was!
I planned monthly dinners at several different restaurants.  I worked with Chefs planning 5 course gourmet meals and then worked with the wine and liquor distributors to pair the social drinks and the wines for each course.  I also had to work with the media to get the word out to the public without paying for advertising.
Next came taking the reservations, and letting the Chefs and Distributors know the head count.  The restaurants gained new customers, the Chefs were able to prepare a meal using their culinary imaginations, the liquor distributors donated the liquor to represent their different suppliers, and the media had a heck of a story for their entertainment section. It was a win-win situation for all.
We had a professional video company that filmed the events and club members could purchase a video to remember the evening.  At a head table the restaurant owner with an appearance from the Chef, would introduce the meal.  Also the liquor distributor was on hand to introduce each of the wines that were paired with each course.  It was not only a social event, but a learning seminar at each dinner.
'A Starry Nite' benefiting Outlook Nashville, June 15, 1995
This was how it all began, an event raising money for Outlook Nashville.  Outlook Nashville, for over 37 years has been committed to giving children and adults with disabilities the opportunity to discover, develop, and demonstrate their capabilities, talents, and desires.
The event included special appearances by several up and coming Country Music Artists, and auction, wines donated by Mirassou Vineyards and served by The Tennessee Wine & Spirits Company complimenting a variety of delicious foods prepared by the Chefs of Sammy B's, an Art Show featuring Ted Taylor, a Photography Show featuring Philip Hight, and a surprise celebrity appearance courtesy of Cowboy LaCage.  My 'Starry Night' event was a success with over 1,000 in attendance.
I started the dining events with the idea of having separate courses each month, with the first featuring hors d'oeuvres, the next month was entrees, the next desserts.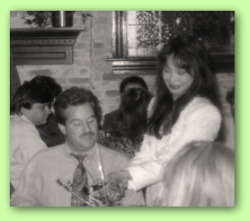 Hors d'oeuvres at Sammy B's, August 17, 1995
Brie en croute; goat cheese and roasted pepper ravioli, sausage stuffed mushrooms, almond Dijon chicken salad in choux pastry, prosciutto and melon, spanakopita, and chocolate dipped strawberries.  The wines were selected by Tennessee Wine & Spirits Company.
Entrees, at Sammy B's, September 21, 1995
Mixed field green salad, tenderlion medalions, chicken florentine, orange ginger swordfish, wild rice pilaf, grilled asparagus, and warm rolls with butter.  The wines were selected by Tennessee Wine & Spirits Company.
Desserts, at Sammy B's, October 19, 1995
Raspberry swirled cheesecake, chocolate silk, tiramisu, chocolate fallen truffle cake, baklava, cheese stuffed cannoli.  The wines were selected by Tennessee Wine & Spirits Company.
There was only one problem with these events.  Too much sugar and wine!  Back to the drawing boards.  I think we need to have a complete meal, this way we don't have a sugar rush!  We took the holiday months off and started back in January.
Our first full meal at Cafe 1, 2, 3 on January 18, 1996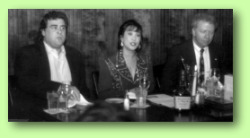 Appetizer – Wild Mushroom Napoleon with Laboure Roi Macon Villages 1994 (France)
Soup – Shrimp Bisque with Rosemary Oil with La Marca Pinot Grigio 1993 (Italy)
Entree – Duck Breast with Ballotine of Leg served with Nutted Wild Rice and Vegetables with Chateau La Chasse Du Pape Reserve 1994 (France)
Salad – Bibb Lettuce with Walnuts and Green Onion Vinaigrette with Aneglico Blanc 1994 (France)
Dessert – Pumpkin Bread Pudding with Chocolate and Beachaven Cumberland White (Tennessee)
The Plantation, February 15, 1996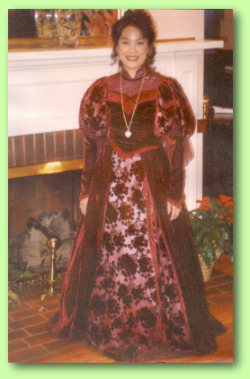 Appetizer – Shrimp Casino with Laboure Roi Rouilly Fuisse (1994)
Melon/proscuitto ham
Soup – She Crab Soup with Trimbach Gewurztraminer (1993)
Salad – Caesar Sald with Mirassou Harvest Reserve Pinot Blanc (1993)
Orange sorbet
Entree – Lobster Diablo with Carbonnieux Blanc (1993)
Dessert – Marble Cheesecake with H. Schmitt Sohne Piesporter Michelsberg Spatlese
Maker's Mark Distillery, March 2, 1996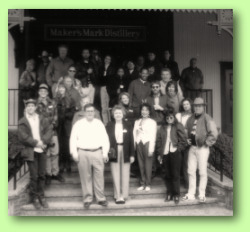 The Reach for the Stars Wine and Dine Club traveled to Maker's Mark Distillery located in Kentucky.  Upon arrival, we were greeted by Greg Walker of Maker's Mark who served as our host.  He explained the process of making quality bourbon and showed us the inside of the barrels and how they are charred.  There were several vats that hold approximately 2,500 gallons of bourbon.
We then had a wonderful lunch at Maker's Mark House on the Hill which included specialty drinks, desserts, and coffee made with Maker's Mark.  And of course the drinks on the bus trip were sponsored by Maker's Mark Distillery.
Faisons, March 21, 1996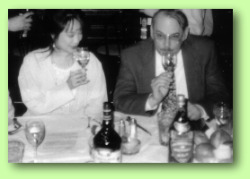 Appetizer – Smoked Salmon with Country Ham, Goat Cheese and Cornlight Bread with Santino Fume Blanc 1993 (Amador)
Soup – Seafood Gumbo with Renwood Viognier 1994 (Amador)
Entree – Hazelnut Veal: Veal sauteed with hazelnuts, dried cranberries and mushrooms with bleu cheese polenta and Renwood "Old Vines" Zinfandel 1993 (Amador)
Salad – Thai Spinach Salad with Fried Wontons, Asparagus, Red Peppers in a spicy Thai Dressing with Santino "White Harvest" White Zinfandel 1994
Desssert – Mission Fig and Strawberry Napoleon with Renwood "Amador Ice" (Amador)
Jules Dining Hall and Bar Car, April 18, 1996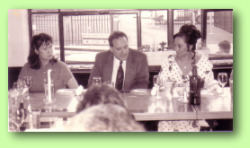 Appetizer – Spinach Foccacia with crumbled bacon and bleu cheese with Marietta Zinfandel (Sonoma) 1994
Soup – Mussels au Gratin in Sherry Cream with Ferrari Carano Fume Blanc (Sonoma) 1994
Salad – Bibb Lettuce with Gorgonzola Cheese and toasted almonds with Bonny Doon "Pacific Rim" Reisling (California) 1994
Entree – Hickory Smoked Salmon with Wild Rice and Roasted Vegetable napoleon with Robert Sinskey Pinot Noir (Carneros) 1993
Dessert – Coconut Creme Brulee with Bonny Doon "Vin de Glaciere" (California) 1994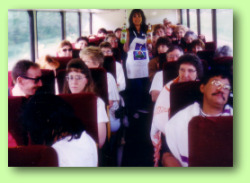 In addition to these monthly Dinners, I planned several different Travel Events.  I took groups to Maker's Mark Distillery, The Biltmore Estates, held a Cognac seminar,  and hosted a group bus trip to a University of Tennessee Football Game.
I also hosted a unique charity event on Music Row where I introduced the Country Music Industry to the Cowboy LaCage!  This was really tricky because the Cowboy LaCage, were yes, men impersonating female Country Music Celebrities!   It was a hoot and a big hit.
Biltmore Estate Festival of Flowers, May 4 – 5, 1996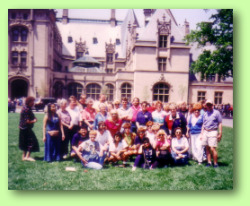 The Biltmore Estate and Smoky Mountain fun were drawing cards for the Reach For the Stars Wine and Dine Club Weekend Getaway, scheduled for May  4 – 5.  Participants departed Nashville via Orion Charter and headed to Pigeon Forge for a tour of the Mountain Valley Vineyard and Winery.  An overnight stay in Gatlinburg was followed by a trip to the renowned Biltmore Estate for the Festival of Fowers and winery tour.
I created a monthly newsletter and was invited to attend all the Wine and Social Events in Nashville to not only to include in my newsletter, but to invite my several wine and dine members.
Taste of the Nations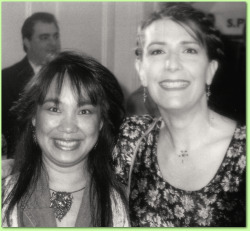 Ramona Werst and Country Music star Kathy Mattea at Nasville's Taste of the Nations event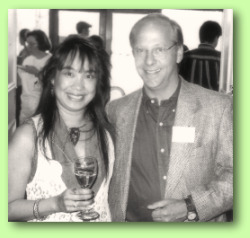 Ramona Werst and Andy Pargh the Gadget Guru
American Cancer Society's Un Ete du Vin Wine Auction Dinner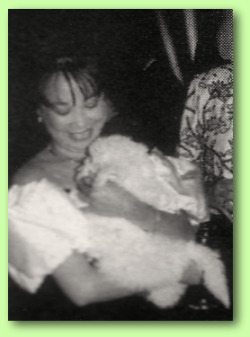 Ramona Werst and her date!  A little Maltese that was auctioned for over $1,000!
Margarita Night at Iguana's, May 16, 1996
I ran a campaign in conjuction with Jose Cuervo to 'Save the Margarita'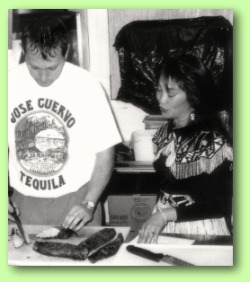 Appetizer – Bar-b-cue Porkloin sliced and served over a grilled scallion cake with gingered pickles with Robert Pepe Sangiovese
Soup – Tortilla Soup with Lemon Grass, coriander, chilies, and fried corn with Bonterra Chardonnay
Entree – Burmese Cat: Shrimp stuffed tamale with catfish, poached in a gingered green tomato broth with Sauvignon Blanc
Salad – Southwestern/Asian julienne slaw: Jicama, broccoli, peppers, chilies, coriander, lemon grass, cabbage, apples, and mushrooms.  Chili seared Sirloin of Beef Carpaccio served over Nori sheet with relished and spicy vinaigrette with Wild Horse Pinot Noir
Dessert – Fried Yucca Root with Lemon Honey Glaze with Chaucers Mead (Honey Wine)
My Happy Birthday Bash at The Blue Moon Restaurant, June 20, 1996
Social Drinks sponsored by Chase-Limogere Brut Rose NV (California)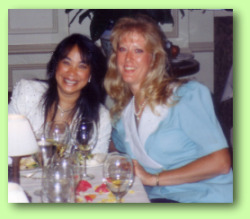 Appetizer – Smoked Salmon Canape with Dill Citrus Sauce and Salmon Caviar with Murphy-Goode Fume Blanc (Sonoma) 1995
Soup – Chilled Leek, Asparagus and Sorrel with Franciscan "Oakville Estate" Chardonnay (Napa) 1994
Entree – Chicken, Shrimp and Spinach Roulades with a citrus veloute and served with green bean and almond saute and herbed duchesse potatoes with McDowell Viognier (Mendocino) 1994
Salad – Arugula, Radicchio and Bibb Lettuce with Yellow Tomatoes and Balsamic Vinegar
Dessert – Fresh Cherry Crostato with Chase-Limogere Brut Rose NV (California)
Pig Roast at D & T Pub, July 18, 1996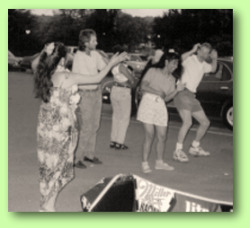 This was just a fun event.  Dressed in Hawaiian attire and dancing the Macrena.  Even though this wasn't like our usual dining events, I wanted to show that you could have fun pairing liquor to outdoor events too!
Drink sponsor Captain Morgan Original spiced Rum
Menu – BBQ Pork, Baked Beans, Corn on Cob, Cole Slaw, Homemade Lite Bread, Peach Cobbler, Watermelon (Fruit Basket) with Riunite Wines selected by B & G Wholesalers
Our August event was replaced with A Mid Summer Dinner at Apples in the Field (Sheraton Music City), August 1996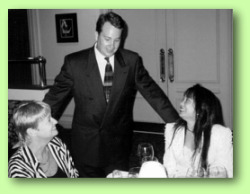 Due to a change in our plans, we were invited to join Apples in the Field and Tim Pitts of B & G Wholesalers, to an enchanting evening.  The evening started with wines in the veranda lobby and appetizers.  Then our group was seated to enjoy a 5 star rated dinner.
The merlot complimented the roasted quail perfectly.  Then for a change we switched to the Sauvignon Blanc with Yellow Beefsteak Tomatoes.  Followed with Gamay and the Potato Basket.  The Potato Basket is a carved potato and the scallops were on the side.  The next treat was very new to all of us.  The lime sorbet was present with Lyches.  If you have never seen Lyches, they look like whole nutmeg.  They tasted sweet like a honey melon with the texture of a grape.  The Chess Board came out next and the presentation of this entree was unbelievable!  The pieces of Salmon and Amberjack were weaved to look like a checker board.  The desser was a summer blackberry tart in a cashew crust and the Gewurztraminer had to be the winning combination.
University of Tennessee Volunteers 75th year Anniversary Football Game, August 31, 1996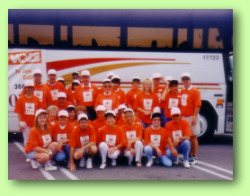 Reach for the Stars Wine and Dine Club with several Volunteer Fans traveled in style with Ramona Werst to the University of Tennessee's first home football game against the University of Nevada-Las Vegas.  Fans traveled in a luxury coach trip departing Nashville, staying at the Clubhouse Inn, and then attended the Football Game.
Drinks for the bus ride was sponsored by Gordon's 'Big Orange' Flavored Vodka.
Martell's Cognac Seminar at Morton's of Chicago, September 19, 1996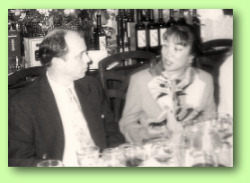 Appetizer – Social drinks with Wisconsin Cheese and fresh fruit
Salad – Morton's Salad with blue cheese dressing, garnished with anchovies
Entree – Double Cut Fliet Mignon, baked potato, served with steamed fresh broccoli and Hollandaise sauce
Dessert – New York Cheesecake with Godiva
And of course a full seminar with Martell's Cognac
An Evening of Halloween Debauchery at Apples in the Field, Sheraton Music City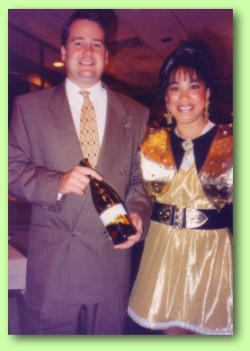 I was dressed like a space ship nice lady unlike when I had to paint my body blue like a smirf for and alien film. I liked this costume much better.
Appetizer – Crisp Scallops with horseradish lime sauce and Chardonnay
Salad – Saga Cheese and Pecan Souffles and Mesclun with roasted red and Fume Blanc
Entree – Grilled Veal Chop with Morel sauce, Casper potatoes, warm cherry salad with Cabernet Sauvignon
Dessert – Pumpkin Napoleons with Zinfandel Lemon Cream and Zinfandel
Starbucks Treat Bags of Expresso Brittle
Wines of the World, October 22, 1996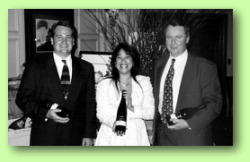 Honorary Chairmen Marcia and Craig Jervis of the Mad Platter Restaurant and Catering, hosted 'Wine of the World', a sine tasting to benefit the National Kidney Foundation of Middle Tennessee.  The event was held at the Vanderbilt Stadium Club and featured a sampling of over 100 selections of wine from Australia, Chile, France, Germany, Italy, and the United States.
Porceeds from the wine tasting will be used by the National Kidney Foundation to support its porgrams of research, patient and community services, and public and professional education.
George Dickel 'Ain't Nobody Better' Tour, October 30, 1996
Chef's from several of the local restaurants, turned out to show off thier favorite recipes using George Dickel Sour Mash Whisky.  The dishes were scrumptious!
The evening benefited the Oasis Center.  The Oasis Center celebrated their 25th anniversary.  They provide unique client driven programs to meet the changing needs of teens living in a constantly changing world.
Cooking with George Dickel provided a way to raise money to help the Oasis Center continue to help adolescences.
In order to share with you the Reach for the Stars Wine and Dine Club experience, I have shown you  the menus and pictures of some of the events.  The club was together for almost 2 years, and came to an end, when I was informed that I was in a grey area.
What???  Because the liquor was donated and wasn't sold, but the meal was sold as an all inclusive package, there was no tax on the liquor!  Uncle Sam wasn't happy and wanted to review how to tax the club.  Politics was not for me!
Next Can you get from Nashville to Texas by boat?