Thai Basil Eggplant Parmesan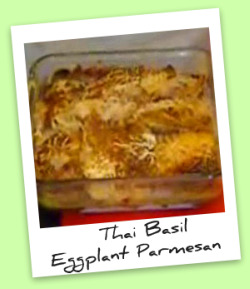 I love the little extra spice that Thai Basil adds to the fried Eggplant.  I also use Thai Basil in my homemade Thai Basil Pasta Sauce.
You can prepare the fried Eggplant and the homemade Thai Basil Pasta Sauce ahead.  You can even freeze and use when you are ready to put your Thai Basil Eggplant Parmesan Casserole together.  This saves a lot of time.
You can download and print the recipe and step by step instructions, just click on the below hyperlink:
Ingredients
2 large Eggplants
Enough fresh Thai Basil leaves, 1 leave for each eggplant slice
2 cups seasoned Bread Crumbs
1 cup All Purpose Flour
6 eggs, slightly beaten
Pinch of Kosher Salt
1/4 teaspoon fresh ground Pepper
Crisco Oil for frying
6 – 8 cups Pasta Sauce (see  Homemade Pasta Sauce)
1 (16 oz) container Cottage Cheese, or Ricotta Cheese
1 package Cheddar Cheese, shredded
1 package Mozzarella Cheese, shredded
1 cup Parmesan Cheese, grated
1 red Bell Pepper, optional
1 small package Mushrooms, sliced, optional
1 medium sweet Onion, sliced thin separating the rings, optional
1 cup Jalapenos, minced, optional
Directions
Take an eggplant and cut into round slices approximately 1/4" thick.  Soak the slices in water and Kosher salt water.  Place a Thai basil leaf on the eggplant and dip in the egg mixture.  Roll the eggplant in the bread crumb, salt, pepper and flour mixture, make sure that the pieces are fully covered.  Place on a dish and set aside.
Heat the oil in a heavy bottom skillet. Fry the slices with the side that has the basil leaf side down.  Cook the slices for about 2 minutes on each side.  Once the slices are fried, put them on a paper towel to drain.
Once the pieces are cooled completely, put them in a ziplock bag and put in the freezer.  Or you can use right away.
Prepare the pasta sauce and set it aside. You can make Homemade Pasta Sauce,  just click on the hyperlink for the recipe.
Spray a baking dish with some oil. Arrange the eggplant in a single layer. You may need to cut some of the slices in half to fill the bottom layer. Cover the pieces with cheese mixture.  If you are using meat, spread some of the meat over the cheese mixture. Sprinkle the shredded cheeses over this layer. (I use mozzarella cheese, shredded cheddar cheese and parmesan cheese). It's time for you to get creative! You can either add more meat or add some red bell peppers, minced jalapenos, thinly sliced onion rings, sliced mushrooms in layers and then cover with the pasta sauce. You can do this in whatever way you like! Once you have added pasta sauce, put the final layer of eggplant slices over the pasta sauce. layer of cheese mixture on top of the eggplant slices. Spread the pasta sauce over the cheese mixture layer. Sprinkle some shredded cheese over it.
Bake it at 350°F until it is cooked all way through. If you notice extra liquid, use a baster and remove the liquid.
The Thai Basil Eggplant Parmesan with homemade Pasta Sauce is ready to be served!