Lemon Blackberry Spicy Globe Basil Pie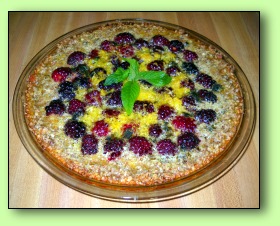 Lemon, Blackberries and Spicy Globe Basil all go great together in this delicious pie.
Add a toasted pecan crust to it and you are in for a real treat.
You can download and print a full version of the recipe.  Just click on the hyperlink below:
Ingredients
Pecan Crust
2 cups Pecans, coarsely ground
3 tablespoons Sugar
1/4 cup Butter, melted
Filling
3 Eggs
2 Egg whites
3/4 cup Sugar
1/4 cup Lemon Peel, grated
1/4 cup Spicy Globe Basil, chopped
3/4 cup fresh Lemon juice
1/4 cup Butter, melted
1 cup fresh Blackberries
Directions
Crust
Melt butter in microwave and pour in the glass pie pan.
Grind fresh pecans and add it to the melted butter. Add sugar mix.
Press the mixture against the sides with a fork.
Bake the pie crust at 350°F until the pie crust is a toasted color.
Filling
Add egg, egg white, sugar and lemon juice into a bowl.
Beat the mixture until it becomes thick and lemony.
Melt the butter, and add to the mixture. Blend the mixture and set aside.
Arrange the blackberries in the bottom of the pie crust. Sprinkle the freshly chopped Spicy Globe Basil over the blackberries. Pour the lemon and egg mixture in to the pie crust.
Bake the pie at 350°F until the lemon mixture is set. Approximately 30 minutes.
Cool the pie to room temperature. Refrigerate the Pie until cold.
The Lemon Blackberry with Spicy Globe Basil Pie is ready to be served!