Meet Cindy Meredith of The Herb Cottage
In an effort to introduce my readers with more information on gorwing, caring for, and cooking with basil, let me introduce you to another Basil Gardener Friend, Cindy Meredith.  Cindy has a wonderful blog called The Herb Cottage!
She recently contacted me and shared her wonderful basils with me.  Cindy has some basils I have not started to grow, but they sound interesting and I'm going to pick a few favorites and grow some real soon.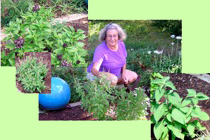 Meet Cindy with her African and Indian Basils… and more Garlic Chives.
Cindy said, "I grew these varieties of Basil because I like to find and grow unusual varieties of the herbs I love. Some of the Indian Tulsi Basils are used medicinally and ritually. I simply grow them for their visual interest and different flavors. The African Basils also have medicinal properties, but, again I am interested more in form and flavor."
She added, "They are all so pretty. From the diminutive African Kivumbasi with its intense lime flavor to the taller, more bushy Tulsi Krishna and the large leaved, stiff form of Tulsi Vana, I am appreciating them all.
All are setting seed right now, so I should have plenty to share.
Cindy has a lot of great information about basil and her basil seed exchange might be something readers of Ramona's Basil Garden might finof interest.
Cindy Meredith
The Herb Cottage
cindy@theherbcottage.com