Michael Werst of Copper Dog Farms
Michael Werst of Copper Dog Farms is not only our nephew, but he is one of Austin's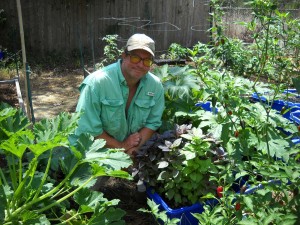 generous organic gardeners. You can see pictures of his beautiful gardens and read more about Michael in an article written by The Cosmic Cowgirl, Copper Dog Farms.
Michael grows all kinds of organic vegetables from squash, all kinds of heirloom tomatoes, bean, lettuce, and of course several kinds of Fresh Basil.
He is an excellent gourmet cook and creates delicious recipes with all of his Fresh Basil.  "Basil is not only good for culinary purposes, but is useful for pest control and makes a beautiful companion for all of my tomatoes."
Michael uses Worm Castings to give added nutrients to his Basil and all of his delicious vegetables.  You can read more about Worm Castings and my interview with a Worm Casting Farmer, by clicking on Worm Castings.
Watch as Michael takes us on a tour of all of his wonderful Fresh Basil.  He talks about his favorite recipe using his heirloom tomatoes and fresh basil.  Below is the recipe.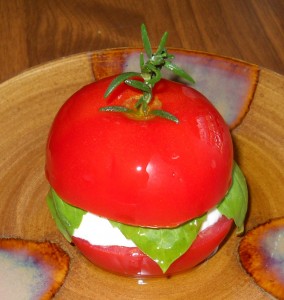 Layered Heirloom Tomato with Fresh Basil
Heirloom Tomato (or your favorite Fresh Specialty Tomato)
Fresh Mozzerella Cheese
Fresh Basil Leaves (favorites of mine are Lettuce Leaf and Thai Basil)
Sprig of Fresh Rosemary
Olive Oil
Slice the tomato into 1/2″ slices. Make layers of tomato, basil, and cheese. When you are using the top tomato slice, stick a sprig of fresh rosemary through the center to hold together.
Drizzle with olive oil and refrigerate for at least 30 minutes.
Love Your Basil,
Ramona Werst