Nina Hallmark of Cornerstone Home Garden
Because Gardening Should Be Fun!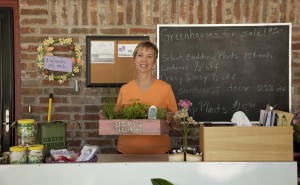 I'd like to introduce you to a very good friend, Nina Hallmark. Nina actually was a big part of David and I getting married.
Everything in Nina's yard is absolutly beautiful. She even has CornerStone Home Garden Store right in her driveway. You can take a tour of Nina's beautiful home and Store at CornerStoneHomeGarden.com
Nina is truly a Master Gardener and her vegetables that she grows are so delicious. Nina has a full herb section in the Cornerstone Home Garden Store, and usually has lots of Basil, but sells out of them very quickly. She is able to keep her little private stach and keeps it handy to be able to cook with.
Nina will actually not only share garden secrets and tips, but will also share with you how to kits! These how to kits will include cool garden gifts for you to make and give to someone special; garden fun activities to do with kids; and garden secrets that you will want to try right away.
Not all of us are as creative as Nina is with her gardens and designs, but by following her how to's we can create really imaginative garden ideas that we can decorate our homes or give as gifts. Taking time with kids now will impact their future in how they take care of the earth too. We can share with them that 'Gardening Should Be Fun!'
This short video is of me and Nina as she shows her Herb Box.
You really need to jump on over to her Blog Cornerstone Home Garden and check out all the vegetables, herbs, and articles she is writing to share her garden tips with you.