Russ Dale Shares his "Space Basil"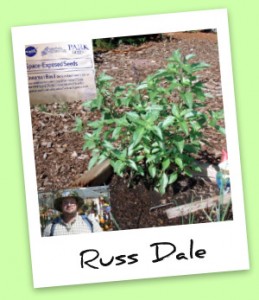 Russ Dale grows "Space Basil" in his small garden in Denver, Colorado.
The cinnamon basil is a cultivar of Ocimim basilicum (sweet basil) and the original seeds for the plant have been to outer space, thus the name 'Space Basil.'
Astronaut Mission Specialist and Educator Barbara R. Morgan took ten million Cinnamon Basil seeds with her aboard the Space Shuttle Endeavour to the International Space Station Alpha  in August of 2007 (Mission STS-118).  The seeds were exposed to the vacuum of space as an experiment package.
Once those seeds came back to Earth, NASA distributed them to schoolchildren across the country where they were urged to design experimental chambers in which to grow the basil seeds.
The project was used to spark interest and inspire students; perhaps affording them a dream about planning how future deep space explorers can grow fresh food.  What a lesson to learn!
Dale has harvested the seeds from the original plant and will forever grow "Space Basil."