Spicy Globe Basil Cauliflower Cream Soup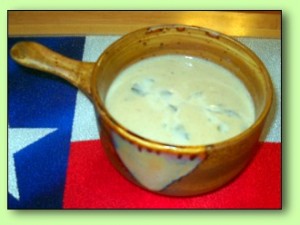 Cream soups are so delicious either as the main course or as a side with a sandwich.
You can even serve as an appetizer.
Download a printable full version of the recipe. Just click on the hyperlink below:


Ingredients
2 cups Cauliflower, broken apart
4 cups homemade Chicken Stock (or canned without salt)
1/2 teaspoon Kosher Salt
1/2 teaspoon Pepper, ground
2 cups Heavy Cream
1/4 cup Spicy Globe Basil, chopped
2 Jalapeños, minced
1/4 cup Butter
1/2 cup Flour
Directions
Add cauliflower to boiling chicken stock. Cook the cauliflower for about 5 to 7 minutes until it becomes tender, but not mushy.
Once cooked, remove the cauliflower from the chicken stock and set it aside.
Pour the chicken stock into a crock pot. Add Jalapeños and Spicy Globe Basil to the chicken stock and stir.
Melt butter in a pan. Add flour and mix it well. Add cream, pepper and salt and stir the mixture. Stir quickly to remove the lumps.
Add the cream and flour mixture to the broth in the crock pot. Stir it well to make sure that there are no lumps.
Add the cauliflower. Cook the mixture on a high until the mixture comes to a full boil. Once it comes to a boil, turn the heat to low and allow the mixture to simmer for few hours.
Use a hand blender or pour into a blender to break down to the cauliflower in to fine pieces. Continue cooking the mixture at low for about 2 to 3 hours.
And there you have it, Spicy Globe Basil Cauliflower Cream Soup!