Spicy Globe Basil Southwestern Turkey Soup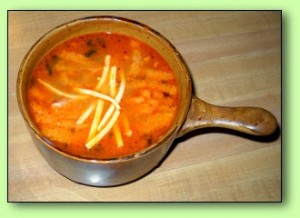 This is one of my favorite soups!
After the holidays or whenever I cook a turkey, I save the carcass.  You can even freeze the carcass so you can make this soup any time.
You can download and print a full version of the recipe, just click on the hyperlink below:
Ingredients
Turkey Stock
1 Turkey Carcass
1/4 cup Spicy Globe Basil, chopped
3 Garlic Cloves, minced
1 medium Onion, chopped
1 teaspoon Kosher Salt
1/2 teaspoon Black Pepper
Water, to cover Turkey Carcass
Southwestern Turkey Soup
Shredded cooked Turkey (saved from making the Turkey Stock)
4 cups Turkey Stock
1 (14.5 ounce) can diced Tomatoes
2 Roma tomatoes, chopped
1 medium Onion, chopped
2 Garlic clove, minced
1 tablespoon fresh Lime juice
1/2 teaspoon Cayenne Pepper
1/2 teaspoon ground Cumin
Salt and Pepper to taste
1 Avocado, peeled, pitted and diced
1/2 teaspoon Cilantro
4 or 5 Corn Tortillas, sliced into thin strips
1 cup Monterey Jack Cheese, shredded
Directions
Put the turkey carcass in a large pot and cover with water. Add minced garlic, onion, Spicy Globe Basil, salt and pepper. Bring to a boil and turn down the heat to medium high and boil until the meat in the turkey is ready to fall off the bone. Strain it and set the turkey meat aside.
Add a can of diced tomatoes; onion, roasted jalapenos, minced garlic, ground cumin, Cayenne pepper, lime juice and add the shredded turkey to the broth. Add salt and pepper to taste, bring the mixture to a boil and simmer for 15 to 20 minutes.
After the broth mixture has simmered for about 15 to 20 minutes, add diced Roma tomatoes, diced avocado and fresh cilantro. Allow the broth mixture to boil at medium high for another 15 to 20 minutes.
Cut the raw tortillas into little thin strips and add them at the last 15 minutes of boiling the broth mixture.
Once the corn tortillas are cooked. Ladle the soup into a bowl sprinkle some cheese on top. The Spicy Globe Basil Southwestern Turkey Soup is ready to be served!