Thai Basil Broccoli Cheese Soup
This soup is a rich creamy delicious soup recipe.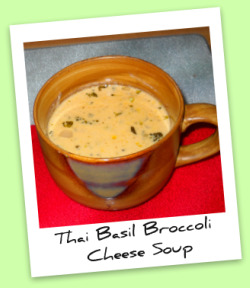 With the added flavor of the Thai Basil and it's so simple to make, I know that you will add this to your favorite recipes!
You can download a printable version of this recipe, just click on the hyperlink below:
Ingredients
1 large bunch Broccoli, chopped
2 medium Onions, chopped
1 stick Butter
4 tablespoons Flour
2 cups Cream
2 cups Milk
1 cup Chicken Broth
2 teaspoons Worcestershire Sauce
1/2 pound Velveeta Cheese, shredded
1/2 pound Cheddar Cheese, shredded
1 cup Jalapenos, minced
3 tablespoons Thai Basil, chopped
2 tablespoons Garlic, minced
1/2 teaspoon Salt
1/4 teaspoon Black Pepper
Directions
Take the Broccoli bunch, cut off the bottom portion of stem. Chop the rest of the stem and the top crown part. Put the entire chopped broccoli in a bowl.
Chop the onions. Make sure that you are chopping the onions in to medium size pieces and put all the chopped onion in to a bowl.
My green house has over 20 varieties of basils that are very healthy. Some of my favorite basils plants that I grow are Lemon Basil, Lime Basil, Cinnamon Basil and Thai Basil. Since I only need 3 tablespoons of Thai Basil, I'm pinching only a few of the leaves from the Thai basil plant.
Rinse the Thai Basil leaves with cool water it will liven up the leaves. Cut the unwanted portion using utility scissors. Then either pinch the leaves from the stem or cut the leaves using the utility scissors.Gather the leaves, and the cut them fine with utility scissors or a knife. Put the chopped leaves in a bowl.
Melt butter and add garlic in a skillet. Add onion, and minced jalapenos. Turn up the heat and sauté the mixture. Add salt and pepper to the mixture to your preference. Add the chopped broccoli to the mixture, sauté it coating with the butter. Since the broccoli will cook in a slow cooker, you don't have to cook it completely. After the mixture sautés for few minutes, add the Thai Basil.
Add the Worcestershire sauce to the mixture. Add chicken stock and flour to the mixture.
Pour the mixture into the slow cooker which is turned on to high.
Add Velveeta shredded cheese which will make the mixture creamy and the shredded cheddar cheese. Add the cream and milk to the mixture. Stir to combine. Allow the mixture to come to a boil.
Taste the soup frequently and add more salt and pepper if needed. Allow the mixture to cook down so that the cheese gets completed blended in to the mixture.
Ramona's Broccoli Thai Basil Cheese Soup is ready!