Did you know that there are over 100 different varieties of Basils?  I didn't until I fell in love with them and started to collect all kinds of Basils!  I now have over 60 different varieties so far and am always on the lookout for new Basils to bring home.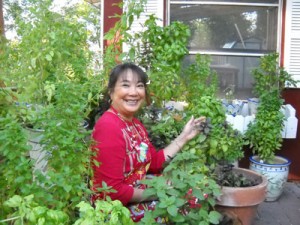 I love to grow basil, cook with basil, write about basil, and husband David is building me a new greenhouse just for my basil collection.  My basils have already outgrown the new greenhouse, so there are plans for a new, larger one in the works for this winter. My contractors, (David and our friend, Richard) work for food. These West Texas guys have never eaten so many different dishes using Basil.  I think they are enjoying my recipes because it's already taken  3 months for this greenhouse to be built! lol
I have always loved to garden, but when I started my basil collection, I knew that this was the plant that I wanted to share with everyone.  I create recipes with basil from Salsa to Ice Cream and will share these recipes with you.  Some of these recipes can be found at my companion site:  Cooking Vietnamese Food.  Go there to get some mouthwatering Asian recipes and tips.  And it's not just Asian, it is specifically Vietnamese food and it's different.  Give it a try!
When I decided to blog about Basil, I needed a direction to go. From all my teachers including Ed Dale, Yaro Starak, and several others, I have learned that you need to make sure that you offer your readers what they want to know.  That is what I intend to do.  If you haven't subscribed yet, just enter your email address in the side bar and I'll send you an email whenever I post a new article.
I want to share with you:
A listing of all the different varieties of Basils, with pictures and interesting information about them.  Click here to read a great eBook all about basil.
Recipes for each of the different varieties of Basils.
A membership community where you will grow and cook with the different varieties of Basils.
Seeds for the different varieties of Basils.  Yes, I want to share the seeds so you can grow your own basil.
A forum where we can all talk about our Basils, sharing ideas and solving problems.
We'll put together a Basil Cookbook using all the different varieties of Basils.  You can also learn more about the foods of Vietnam with an eBook on the history of Vietnamese food.  It;'s healthy and delicious and they use lots of basil. Pretty interesting stuff there!
Products to help you with your Basils.
Adoptable Frogs, with the cutest personalities to add to your Basil Garden.
Will feature Basil Gardens from our blog community, that means YOUR Basil Garden!
We have a big adventure ahead…we have to find the mysterious Chocolate Basil!  I just know it exists, even the NY Times wrote about it.  I want to add Chocolate Basil to my collection and write about it.  If you have any clue where to find one, I will treasure it forever. I will also share with you my lifetime journey from Saigon to Texas.  I've had an exciting lifetime journey, and now I want to continue my quest to find the Chocolate Basil.
I collect Basils wherever I go.  David laughs at me and said I really need to carry a list with me, because I stand in front of a Basil I want to bring home, and start going through all the Basils I know I have.
I hope you will enjoy the time you spend in my Basil Garden, and in my kitchen. I hope you will "Love Your Basil".
I look forward to your comments and suggestions.
Ramona Werst

ramonawerst@gmail.com