This is not just a delicious recipe, but there is a story behind it.  It's so interesting how things sometimes come together and this is one of those
times. It all started because I'm a foodie and I follow other foodies on Facebook.  One of the clubs that I am a member of mentioned a brand new corn that had an interesting story.
I researched this corn further to find that it is grown by Colorful Harvest in California.  Doug Ranno, the original founding partner had a child with severe food allergies.  He was looking for natural foods that she could enjoy and that would boost her nutrition.
Colorful Harvest was designed to be a cutting edge produce company with one foot in tradition and one foot in innovation.  A special variety of sweet red corn was the first to be tested.  Ruby Jewel Sweet Red Corn has jewel like red kernels that got their color from naturally high levels of an antioxidant called anthocyanins.  This unique corn is tender, sweet and delicious.
After reading all of this, I had to have some!
The Ruby Jewel Sweet Red Corn arrived by Fed Ex and when I set some of the corn on the bench to take a picture. When I opened a piece of the beautiful corn and stood it up on the bench, a beam of light came through our pecan trees and shined right on the corn.  We couldn't have set up the lighting better if we were professionals.
It was at this moment that I knew we were going to have a long lasting friendship with Colorful Harvest.
I found out that Doug Ranno loves Risotto, so I created this special recipe using the beautiful and delicious Ruby Jewel Sweet Red Corn.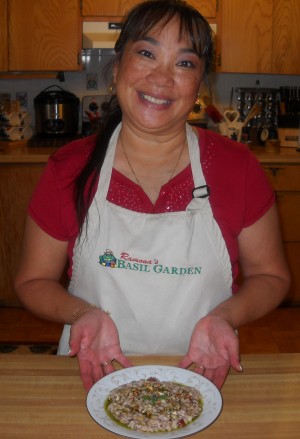 Risotto is a creamy rice dish.  It can be an appetizer, side dish, or even a main course meal itself.
I make everything from scratch and if you take the time to prepare this dish from scratch, when you take your first bite, you will understand why you went to all the trouble!  It will melt in your mouth, I promise.
You can create your own Risotto recipes using your favorite ingredients.  I have made it with everything from roasted pecans, Ruby Jewel Sweet Red Corn, Jalapeños, Buffalo Cheese, and even just plain.
Once you have the technique, you will be able to create a wonderful 5 star dish!
You can download and print the full version of the recipe, just click on the title hyperlink below:
Spicy Globe Basil Risotto with Ruby Jewel Sweet Red Corn
Ingredients
Chicken Broth
4 Chicken Leg Quarters or 2 Chicken Breasts
1/2 cup fresh Spicy Globe Basil leaves, chopped
1 or 2 small sprigs of fresh Rosemary, minced
3 tablespoon fresh Oregano, chopped
2 small Garlic cloves, minced
1 -2 fresh Jalapenos, minced (if you are using hot Jalapenos, use only 1)
Salt and Pepper to taste
1 small bunch of Scallions or little Green Onions, sliced into rings (using white and some of green part)
Basil Oil
Large bunch fresh Basil (I used African Blue Basil and Serata Basil, you can use any kind of fresh Basil)
1/2 cup Grapeseed Oil
1/2 cup Extra-Virgin Olive Oil
Risotto
2 bunch Leeks, chopped
1 tablespoon Garlic, minced
4 ears Ruby Jewel Sweet Red Corn, removed from the cob (1/4 cup set aside for garnish)
1 tablespoon fresh Spicy Globe Basil
1 fresh Jalapeno, minced
2 cups Arborio Rice
1 cup White Wine
8 cups Chicken Broth (recipe above)
1/2 cup Pepper Jack Cheese, shredded
Salt and Pepper to taste
4 tablespoons Butter
1/4 + 3 tablespoons toasted Pecans, chopped
Directions
Chicken Broth
Note: I make the day before so I can refrigerate overnight to allow the fat to harden. Makes it easier to remove.
Place the chicken legs in a large pot and cover with water and bring to a boil. Make sure that that the chicken pieces are completely covered by water.
Add the minced garlic, Jalapenos, rosemary, fresh basil, salt and pepper, and diced green onion to the broth. Bring broth to a boil. Turn down the heat and simmer until the chicken falls off the bone and the liquid is reduced.
Strain the Chicken broth and place in the refrigerator until the fat comes to the surface and hardens (I usually leave overnight). Remove the fat and measure the needed Chicken broth. Place the remaining broth in airtight container, label and freeze for future use.
Basil Oil
Note: I make the day before so I can refrigerate overnight.
Blanching the Basil Leaves
I have harvested 2 kinds of fresh Basil: African Blue Basil and Serata Basil. Rinse in cold water. On a paper towel, remove leaves from the stem.
Gather the leaves and put them in boiling water. Stir them very quickly for only 10 seconds. Turn off the burner and drain.
Very quickly, place the hot basil leaves in an ice bath. It's just a bowl of water filled with ice. Move your basil around just a little bit. And as you can see, the basil is very green. And the purple basil didn't do anything except darken the color of the green.
Take out the basil leaves from the ice bath.
Pureeing the Basil Mixture
Place the Basil leaves in a blender. Add grape seed oil. Blend until very smooth. Add olive and process until very smooth. Pour into an air tight container and place in the refrigerator overnight.
Basil Oil
Remove the Basil Oil from the refrigerator. Set it out on the countertop bringing to room temperature.
Strain this in 2 parts: First strain this through a strainer. Then strain through a gauze cloth or a cheese cloth, inside the strainer. This will remove any sediment. Just pour through a strainer and stir. And you can see that the thicker pulp is staying behind. Discard the pulp. Take gauze cloth or cheese cloth and place inside the strainer. Pour the Basil Oil through the cloth and discard any sediment.
Pour it in an air tight container. The Basil Oil can be stored in the refrigerator for up to 1 month.
Roasting the Pecans
Place chopped pecans on a foil lined pan. Broil for 2 to 3 minutes watching carefully not to burn. Once pecans start to turn brown, stir and continue to broil. Watch them carefully at this point…will go from toasted to burnt in just seconds.
Removing the Corn Kernels
Remove the husks and silk from the corn. Using a sharp knife, cut as close to the cob to remove the corn kernels.
Making the Risotto
Heat the chicken broth to a simmering boil. Turn heat down just to keep the chicken broth hot.
Melt butter in a cast iron skillet. Add Leeks, Ruby Jewel Sweet Red Corn and Jalapeño. Sauté at medium heat for 4 minutes. Add garlic, and fresh basil. Sauté for another minute. Add butter. Stir until butter is totally melted. Turn heat to medium high.
Add the rice. Stir to coat the rice with the butter. Stir in the white wine until it's all evaporated.
Add approximately 1 cup of hot chicken broth, and stir constantly.
The rice will cook and absorb the chicken broth. Make sure you stir constantly. Keep stirring until you can make a track through the rice with no liquid filling the track. Add another cup of chicken broth. Continue this process until the rice is Al Dente. You will use almost all the chicken broth. It will take approximately 15 minutes.
At the 10 minute mark, start tasting the risotto and add salt and pepper to your preference. Right before Al Dente stage, add the toasted pecans. Once you have a track add another cup of chicken broth. This should be your last cup of chicken broth.
Before you see your track, add the final butter. Stir until butter is melted. Add the cheese, turn the heat off and stir.
When you spoon onto a plate, it should jiggle and spread just a little without any liquid separating. The risotto should not just sit in a clump. Garnish with a fresh basil sprig, sprinkle reserved toasted pecans and drizzle with some basil oil.