I am so excited to be cooking again!  It's been a long year recovering and I have missed all my Basil Friends and cooking with fresh Basil…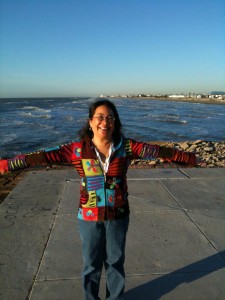 I don't know if you knew about my life threatening surgery that I had in May of this past year, but thanks to my surgeon Dr. Ledesma, he saved my life.  It's been a long road to recovery and I am still having little speed bumps, but I'm so happy to have to deal with speed bumps and to be able to get back to my Basils.  David wrote all about my hospital adventure.
My poor Basil's all died, except I had 3 hardy African Blue Basils that survived.  Now I am starting all over again and I'm truly in heaven in my Basil Greenhouse.
At my last appointment (we are now to every 3 weeks) Dr. Ledesma, who is my cooking buddy, shared with me a new source.  I was so excited!!!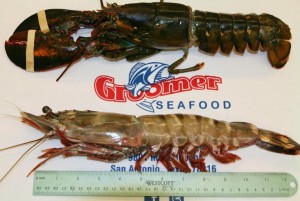 Groomer Seafood, in San Antonio.  They have the freshest and best seafood ever!  They also will ship directly to your doorstep.  Check out their website and see what kind of weekly specials they have.  Check out this interesting African Tiger Shrimp!  I really hope they have some left so I can prepare a feast.
This time I wasn't going to go overboard with my first cooking spree, so I stuck with what I had come for.  Clams!  Blake Groomer picked out the best East Coast Countneck Clams that I have ever seen and I couldn't wait to get home to prepare them.  I prepared Clams in a White Wine Sauce with Sweet Basil, and I can't say enough about how big, fresh and delicious the were.  You have to try this recipe and if you can order your East Coast Countneck Clams from Groomer Seafood, just tell Blake you read my recipe on my blog, he'll fix you right up.
Clams in White Wine Sauce with Sweet Basil
Ingredients
3 lbs fresh Clams (I used East Coast Countneck Clams)
1 stick Butter
3 tablespoons Olive Oil
1 Texas Onion, chopped fine
1 1/2 cup White Wine
6 cloves Garlic, minced
1 1/2 teaspoons Salt
2 tablespoons Basil, chopped
fresh Parsley, chopped and Lemon Wedges for garnish
Baguette
Directions
Clean the clams by washing them under running water. Scurb the shells of the clams and clean them thoroughly to remove any dirt and grit.
In a large cast iron skillet, heat the olive oil and butter over medium heat. When the butter begins to melt, add the onions, garlic, salt and sauté until onions are translucent. Add the clams, basil and pour the white wine over the clams.
Cover with a lid and steam the clams for 10 minutes, shaking the pan occasionally. Remove the lid and check to see if all the shells of the clams have opened. If not stir and make sure the unopened clams are on the bottom in the wine. Cover and steam for another 5 minutes. Discard any clams that have not opened.
Spoon some clams into a bowl and pour the wine sauce over them. Sprinkle with parsley and garnish with lemon wedges. You can also serve with Baguette to dip in the sauce and eat.